Is This Your Situation: Handling the Matching Principle
Consider first the accounting phrase "Matching Principle." Although it is a basic underlying accounting principle, it can be hard to achieve.
The Matching Principle
The Matching Principle means a business reports an expense in the same period as the related revenue. Accountants use "adjusting entries" as their tool to make this happen when it does not happen automatically through the daily bookkeeping process. Through these adjusting entries, revenues are recognized as they are earned, and expenses are recognized as resources are consumed in producing the related revenue.
Typically, revenue is recognized when goods or services are sold. But what if there is a huge delay in shipping the merchandise or performing the service? What if that event crosses over an accounting period or month? And what if the commissions or labor paid on those sales are not paid out for months to follow? It's a delicate dance to get everything "matched" together in the same time period.
QuickBooks offers a variety of tools to accomplish this task. Here are a few:
Reporting Basis: Make sure your reporting basis is set correctly on reports. Every time you choose to run a financial statement, you can select the Accounting method desired.

Accounting Method: If you want to have all your reports default to a particular accounting method, you can make the change under Advanced Account and Settings.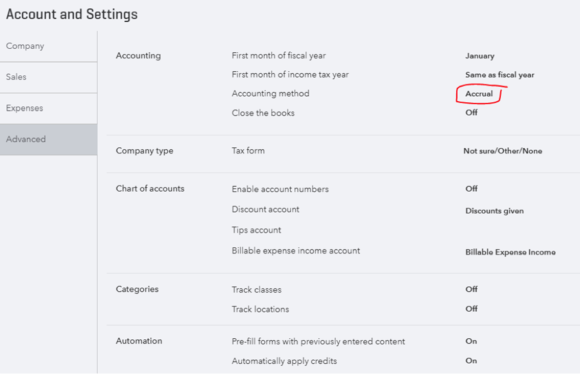 Accrual Method: When you choose the Accrual method, QuickBooks includes all entries with a date in the date range of the report.
Cash Basis: With Cash basis, QuickBooks excludes any entries from the financials that are unpaid. This means they remain open in accounts receivable or accounts payable. Cash basis moves the revenue or expense to the date and accounting period that they are paid, rather than when incurred.
Accrual versus Cash Basis
Why would a business not operate on a Cash basis? Remember, all that the cash basis tells you is whether you are good or bad at hording cash. It tells you nothing about the true profitability and health of your company. Consider a business owner who is really good at collecting funds quickly from customers but does not pay his bills. On cash basis, the financial reports will look good. On accrual basis, a completely different picture will be drawn . . . the business could be losing money in a big way!
Ensure that you make use of accounts payable and accounts receivable, entering your bills as they are incurred and dating your customer invoices when products or services are delivered. If you take money up front from a customer, be sure to record that as a liability. Then manually recognize revenue (and reduce your liability) as work is completed. This will help you match the timing of your labor costs to the timing of your revenue, giving you a more accurate representation on business profits.
Contact us for more help on these challenging accounting concepts.
---
Your Comments