| | |
| --- | --- |
| Nicole, Here Are Your Articles for Monday, June 21, 2021 | |
Don't Forget: Juneteenth Is a Federal Holiday
On June 17, 2021, President Joe Biden signed into law the Juneteenth National Independence Day Act, which passed both houses of Congress by wide margins. This brief act modifies Section 6103(a) of Title 5, United States Code, to add June 19 to the list of federal holidays.
What Is Juneteenth?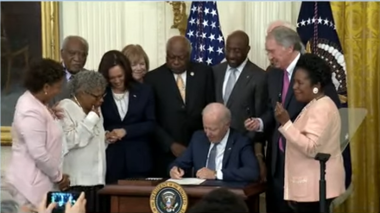 On June 19, 1865, Maj. Gen. Gordon Granger, who had authority over Texas, issued an order saying that "in accordance with a proclamation from the Executive of the United States, all slaves are free. This involves an absolute equality of personal rights and rights of property between former masters and slaves, and the connection heretofore existing between them becomes that between employer and hired labor." Over time, this has become a widely accepted date to mark the end of slavery.
The List of Holidays
Juneteenth now joins the following list of federal holidays:
New Year's Day, January 1.
Birthday of Martin Luther King Jr., the third Monday in January.
Washington's Birthday (Presidents Day), the third Monday in February.
Memorial Day, the last Monday in May.
Juneteenth, June 19.
Independence Day, July 4.
Labor Day, the first Monday in September.
Columbus Day, the second Monday in October.
Veterans Day, November 11.
Thanksgiving Day, the fourth Thursday in November.
Christmas Day, December 25.
The federal holiday list technically applies only to federal employees; however, collective bargaining agreements, for example, may mandate time off on federal holidays or extra pay for working on those days. This new holiday is a good opportunity for employers to review their holiday policies and align themselves with any local rules and customs.
---
Your Comments
Siegel Solutions Inc
(781) 487-7000
info@siegelsolutions.com
144 Gould Street Suite 205
Needham, MA 02494
Saved Articles
Comments and Feedback
Refer A Friend
Your Privacy

Our firm provides the information in this e-newsletter for general guidance only, and does not constitute the provision of legal advice, tax advice, accounting services, investment advice, or professional consulting of any kind. The information provided herein should not be used as a substitute for consultation with professional tax, accounting, legal, or other competent advisers. Before making any decision or taking any action, you should consult a professional adviser who has been provided with all pertinent facts relevant to your particular situation. Tax articles in this e-newsletter are not intended to be used, and cannot be used by any taxpayer, for the purpose of avoiding accuracy-related penalties that may be imposed on the taxpayer. The information is provided "as is," with no assurance or guarantee of completeness, accuracy, or timeliness of the information, and without warranty of any kind, express or implied, including but not limited to warranties of performance, merchantability, and fitness for a particular purpose.

Powered by

Copyright © IndustryNewsletters All rights reserved.

This email was sent to: ncormierdesign@gmail.com

Mailing address: 144 Gould Street Suite 205, Needham, MA 02494