Is Your Computer Really Safe from Electronic Disasters?
Are you one of the many PC users who plug their equipment into a surge protector that you bought in a closeout store and feel that you are now safe? You're not.
There are two reasons for that. The first is obvious — you get what you pay for. And a $5 combination surge protector and multiple outlet is simply not going to provide the same level of protection against a major surge as will a brand-name model that costs $15 or $20. And you won't find out there's a difference until it's too late and your expensive PC or network attached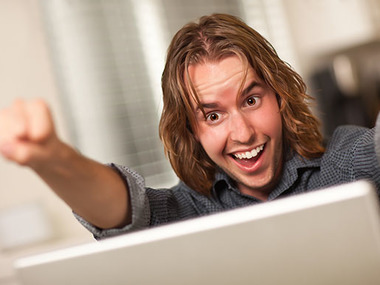 storage device has been fried.
The second reason you aren't as safe with a surge protector is that it's a very limited device. A good surge protector can only protect your devices from a massive overvoltage spike, not from the many other anomalies present in the electric supply at your AC outlet. These include voltage fluctuations (common AC power can vary from 95 volts to 135 volts), brownouts or complete power loss.
These can actually be as harmful to your sensitive electronic equipment as a voltage surge. The power supply in most PCs and displays can handle common AC voltage variations. They have to — no power company in the world guarantees that the voltage at your AC outlets is going to be or remain at 110 volts. But when the power goes out completely, the electronics in your devices may or may not be able to handle it.
One of the more sensitive components in your computer is the disk drive. All modern disk drives can handle a sudden loss of power — the heads that read and write data automatically retract to a safe zone on the drive. But data isn't immediately written or read, and when power goes out suddenly, you can lose data or even have the drive become unusable or unrecoverable.
The answer is not a surge protector (though that's better than nothing), but another device called an uninterruptible power supply, or UPS. A UPS contains a battery and plugs into the AC outlet on your wall. Your PC, display and network hard disk drives are plugged into the UPS, and when the device senses a lack of power from the outlet, it switches to the battery, which generates enough power to keep the PC and display going for a short period of time. This lets you ride out a quick blackout, or if it appears to be ongoing, do a controlled shutdown of your equipment so that it isn't damaged by a sudden lack of power.
UPS backups have different capacities and can power a number of devices for just a few minutes or a half hour or more, depending on how large a battery it contains. When you go shopping for one, there's generally a chart that equates the power draw of your PC against the capacity of the UPS.
A basic UPS isn't expensive. You can buy one for as little as $50 or $60. If your budget allows for it, spend more ($120 to $150) and get one with power conditioning, often called automatic voltage regulation, or AVR. This model not only provides UPS power backup but also monitors the AC line voltage and keeps it in the range of 90 to 135 volts, preventing your PC's sensitive components from damage due to power fluctuations. If the power drops below 90 volts, the AVR boosts it, and if it goes over 135 volts, the AVR reduces it to the proper operating range.
If you only use a laptop, you can pretty much forget about a UPS. The laptop's battery will keep it going if the power goes out. But it's still a good idea to use a good quality surge protector with a laptop, since a large overvoltage spike can fry the laptop's power supply and possibly even the motherboard.
---
Your Comments