When to Use a Collection Agency
Trying to collect on those unpaid invoices? Do you call the clients and get nothing? What do you do when your customer doesn't want to pay anymore?
It's time to take legal action. Your situation may depend on the particular relationship you have with the debtor and various laws, but you typically have some recourse.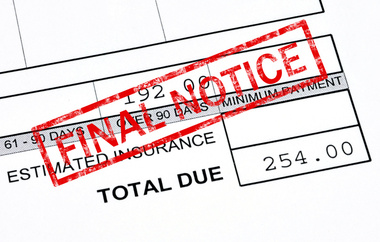 Step one: Send a demand letter. It's a mailed certified letter written by your attorney that demands the money be paid and threatens legal action if money is not forthcoming.
Lawyers' response? It depends. Most attorneys will ignore demand letters from opposing counsel. You might be wasting your time, but you never know — it's possible the customer will see the light and pay up. Sometimes, multiple letters may get you what you want, but some customers will just throw them all out.
Step two: Go back to the contract, if there is one, and see if an arbitration clause exists with provisions for arbitration expenses and attorney fees to be paid by the client, now dubbed the defaulting party. Who has to pay for arbitration and where will it take place? The contract may make the customer think, "Gosh, the fees are going to cost me so much money, I'd do better just paying my bill."
Step three: Find and hire a small-business attorney or hire a collection agency. In either case, you can:
Ask friends and family members for recommendations.

Check out Better Business Bureau-certified collection agencies.

See the listings of the Commercial Collection Agency Association.
Be prepared to ask the following questions:
Do they have experience in situations similar to yours?

Who is your contact at the agency?

What will be needed from you?

What fees do they charge?
Collection agencies charge in various ways.
They might get a percentage. It could be 30 percent of the collected debt, for example, or a sliding scale based on the amount.

They might buy the debt. The collection agency may buy the debt from you, and they'll do so at a very low cost. If you're owed $30,000 from a client, the agency may buy it for $10,000. You have to decide if taking $10,000 and getting rid of the customer would be worth it to you. If not, you may want to negotiate directly with the client.
Just be sure the agency is upfront with how its fee policy works.
A typical reaction to a collections agent is to slam the door in their face. However, a lawyer may be able to instill some fear because no one wants to get sued or have a bad credit report on file.
At the end of the day, determine what is important to you and make a decision that you're most comfortable with. Stay in close touch with legal and financial professionals for the best possible outcome.
---
Your Comments