| | |
| --- | --- |
| Siegel, Here Are Your Articles for Monday, April 27, 2020 | |
Use Apprentices at Your Business
We may think of apprenticeships as strictly for professions like electricians and plumbers, but today apprenticeships are being embraced in a wide variety of businesses. Look at an apprenticeship program as a trial run for you and the apprentice: You're each evaluating the other. You're not obligated to hire the worker, but can use the program to see who might make a good team player. Indeed, by the time you offer a position to stellar apprentices, you'll know their work ethic, skill level and personalities, and how they'll contribute to your organization.
How can this work?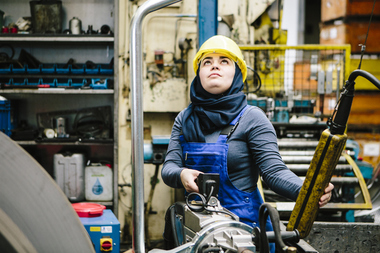 As a small-business owner, you might partner with other small companies and a community college to develop joint apprenticeship programs. This is especially useful if neither of your businesses is big enough to have a class of 15 apprenticeships.
The model is considered cost-effective, as apprentices earn, for example, $15.00 per hour plus mentorship. The companies collectively decide on college curriculum, wages, competency standards and how to interface with government agencies. You can register apprenticeship programs with the U.S. Department of Labor to get technical assistance and support, as well as state-based tax credits, while being able to claim some expenses for training as a federal tax credit.
The gold standard of training is to combine both classroom knowledge and practical skills from on-the-job learning. Lower attrition rates not only reduce hiring costs but boost productivity. Apprentices-turned-employees can continuously learn on the job while acquiring skills in real time.
What are the benefits?
A surprising side effect is the way apprenticeships contribute to business culture and staff engagement. Apprenticeships improve staff morale—the energy of apprentices helps motivate other employees. You're showing the rest of your team that you're thinking about the future of the company, and that helps create a sense of security for everyone.
With higher and degree-level apprenticeships in areas such as project management and marketing, you can up-skill your employees in an area that benefits you and the staff. Your employees have a chance to develop their careers while you future-proof your firm against a changing world of work.
Existing employees are given the opportunity to take on management and development roles as they onboard and manage apprentices. This is something they may otherwise not have had the opportunity to do, and it shows them you value their experience and ability.
Taking on apprentices can enhance your company image in the community: You're improving youth employment, creating strong links with schools, colleges and universities, and helping to strengthen your brand image. You'll bring in a broader range of age, education level and social mix into your business. A diverse mix of employees has a broader outlook and stronger level of overall creativity. Diverse teams attract further diverse candidates for future positions.
By taking on entry-level workers as apprentices, you'll be able to further the professional development of your workforce. You can use apprenticeships to train your team and improve company performance while creating a positive environment to help your company for years to come. You can nurture a skilled talent pool, creating a strong pipeline of capable, productive people.
Let us know if you want to discuss adding apprentices at your company. Meanwhile, you can get more details and guidance from the Department of Labor's apprenticeship page.
---
Your Comments
Siegel Solutions Inc
(781) 487-7000
info@siegelsolutions.com
144 Gould Street Suite 205
Needham, MA 02494
Saved Articles
Comments and Feedback
Refer A Friend
Your Privacy

Our firm provides the information in this e-newsletter for general guidance only, and does not constitute the provision of legal advice, tax advice, accounting services, investment advice, or professional consulting of any kind. The information provided herein should not be used as a substitute for consultation with professional tax, accounting, legal, or other competent advisers. Before making any decision or taking any action, you should consult a professional adviser who has been provided with all pertinent facts relevant to your particular situation. Tax articles in this e-newsletter are not intended to be used, and cannot be used by any taxpayer, for the purpose of avoiding accuracy-related penalties that may be imposed on the taxpayer. The information is provided "as is," with no assurance or guarantee of completeness, accuracy, or timeliness of the information, and without warranty of any kind, express or implied, including but not limited to warranties of performance, merchantability, and fitness for a particular purpose.

Powered by

Copyright © IndustryNewsletters All rights reserved.

This email was sent to: jeff@siegelsolutions.com

Mailing address: 144 Gould Street Suite 205, Needham, MA 02494