Storage Solutions That Will Enlarge Your Kitchen
So you're finally doing it. You've finally got the time and money to give your kitchen a top-to-bottom remodel. You're going to have all-new countertops and cabinets, all-new appliances, maybe even a new floor. But no matter how you plot or plan it, your cupboards are still going to be crowded. And that's bad, because what you really want out of this remodel is the ability to open a cabinet with absolutely no fear that a saucepan lid is going to fall on your head.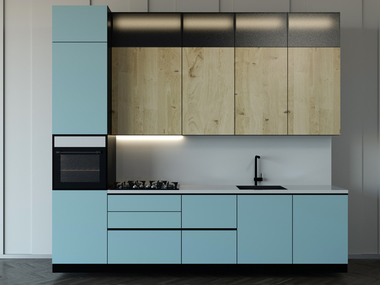 Perhaps the most common complaint homeowners have about their kitchens is something no remodel can truly fix: They're too small. However, well-designed built-in storage can ensure your kitchenware and gadgets all have homes. Here are a few ideas for intelligent built-in storage solutions.
Spice jar storage
Every cook needs dozens of them in every shape and size, so how do you store your spice jars neatly? And how do you keep them all visible so that you can find what you need quickly and don't wind up with three different jars of chili powder? Consider a shallow set of shelves over the sink, a pull-out rack in a narrow drawer or a behind-the-door organizer.
Baking tray drawer
Keeping baking trays on shelves or in drawers takes up far too much space. If you put anything on top of them, you have to pull everything out of the drawer every time you want to bake something, and then do it again after you do the dishes. Why not build in a pull-out drawer that's tall and narrow, so you can stack trays in it vertically?
Build around your sink
Most homes have a lot of wasted space around the sink. For example, the false front drawer directly in front of the sink can be replaced by a door that swings downward, and you can store sponges and scrubbers on the back of it. If there's unused space under the sink, you might be able to add a drawer, or at least a slide-out rack that can make the most of the space.
Add hooks for cleaning supplies
Storing large cleaning equipment like brooms and mops is an annoyance in small kitchens where they're constantly falling out of closets and cupboards. Add a set of hooks or a rack on an unused wall or the back of a door, and you may be able to hang them up neatly and securely.
A kitchen remodel can't make your kitchen bigger than it was before, but it can make it feel bigger. Clever built-in storage solutions are the answer for small kitchens.
---
Your Comments