5 Fun Home Upgrades for Your Pet
Are you a dog person or a cat person? Or do you have birds or reptiles? Whatever animal you share your home with, you probably think of them as a member of your family. So how can you provide comfort and enrichment for your pets? Here are five fun home upgrades you can do for your favorite companions:
Catwalk
Cats like to be up high. It helps them feel safe. You can, of course, stick with the tried-and-true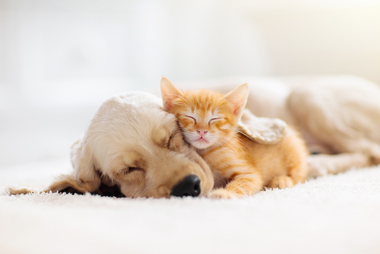 cat tree, but if you want to take your feline enrichment to the next level, consider constructing a catwalk. It can be simple shelves to help your cat get higher up on your walls or a complete series of elevated trails.
Grooming station
Dogs come in all shapes, sizes and hair types. Some want nothing more than to sleep on your bed all day, and some are adventurers that like to get down and dirty in the yard. For the pups that can't stop shedding and the ones that like to stay in touch with their wild side, you can install a grooming station in your basement or garage to wash up your pup and keep your house fresh and clean.
Integrated crate
Crates are an essential part of dog training. Many dogs look to their crates as a safe place to go when they need to feel secure. Cat owners can get in on the action, too, since leaving a carrier out can make a cat feel more comfortable with it when it needs to be used. But a crate in your space doesn't have to be an eyesore. Integrate it into your decor by building an integrated crate into an otherwise unusable space, such as the space under the stairs.
Dog door
Do you ever get tired of letting your dog or cat out and in all day long? They want out, they want in, they want out again. Adding a dog door for easy access to the yard is a great way to keep your sanity and give your pets a sense of freedom. You can even get an intelligent door that works with your pet's microchip or tag to let in only your pet and not strays or other unwanted animals.
Catio
Do you want your kitty to experience the outdoors without the dangers involved? Indoor cats can live much longer than their outdoor counterparts, but they still enjoy all the enrichment of watching nature. You can solve this problem by building a catio. Catios are fenced and screened enclosures with plenty of climbing opportunities so it's safe for your cat to be outside.
How do you want to spoil your furry friend? Call us to find your next pet-friendly home today.
---
Your Comments