Make the Most of Your Living Room
While the kitchen may be the heart of the home, your living room is where you spend time with your family. What was once a formal space for entertaining guests has evolved into a single gathering spot for families around a television or a central seating area. But are you making the most of this room? Here are a few ideas to make you fall in love with your living room.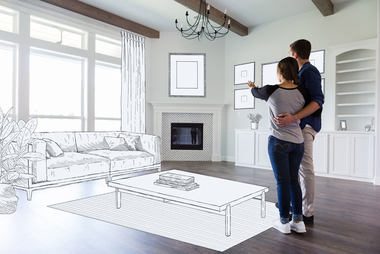 Choose a calming color
The living room is a spot where you and your family can relax after a long day at work or school. To help create a calm feeling, choose a relaxing color. Blues and neutral tones create calming energy in a room. Paint is the easiest and least expensive change you can make to your living space.
Pick furniture that is the ideal scale
The furniture you choose will depend on the size and scale of your room. If you have an open floor plan and cathedral ceilings, go big and bold with your furniture. If your space is small, consider scaled-down furniture with an eye toward retro designs.
Focus on your family
Your living room should be a place where the family can gather comfortably. You want the seating area to be cozy for curling up with a good book or watching your favorite flicks on family movie night. The right plan for your décor is the one that considers how your family uses the space.
Build a play center
It can be nearly impossible for small children to keep toys out of your main living space, especially if you don't have a separate playroom. But that's OK; just plan for it. Create a play center that makes it easy for you or your kids to pick up after play sessions and keep the room free of clutter.
Create an entertainment hub
The modern living room is often centered around the television. That's a great use of the living room space and it should be comfortable and enjoyable for everyone to gather. Choose the scale television that works for your room and place it where viewing is easy.
How do you envision your living room space? Contact us today.
---
Your Comments