Creating an Indoor Garden With Houseplants
Sure, gardening outside can be fun for some people. For others, either there isn't enough outdoor space or that kind of activity just isn't their thing. But that doesn't mean you have to forgo plants altogether. Have you considered creating an indoor garden with houseplants? Let's take a closer look at how to care for your indoor garden.
Watering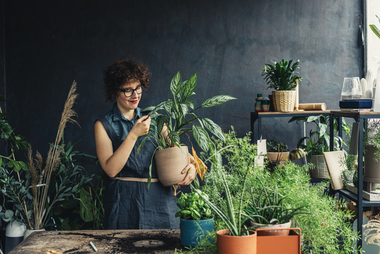 Indoor plants without access to natural rainwater need to be watered regularly. However, the watering schedule will depend almost entirely on the kinds of plants you choose. For example, succulents are trendy because they don't require as much water. The most important thing is to learn about your plants' requirements and test the soil for moisture before watering again.
Temperature, Humidity and Ventilation
Indoor plants also have different requirements for temperature and humidity. Check with your local nursery to find out what works best indoors in your climate with your specific heating and cooling systems.
Sunlight
Without access to the direct sunlight their outdoor counterparts enjoy, plants need additional care indoors. Of course, rooms brightly lit with natural light will help plants thrive, but some plants might be just fine in a shadier part of the home.
Potting
The pot and soil you use will depend mainly on the plant you get. You still need to make sure plants are in a pot of the correct size for their root systems. Some plants also prefer sandier soil over rich soil, so check what will be best for the plants you're choosing.
Feeding
Soil in pots can become nutrient-depleted more quickly than the soil in a garden. Adding plant food on a regular schedule will help your indoor garden stay healthy and green. There are several options on the market, so check with your nursery to find the right blend for your plants.
Do you dream of a lush indoor garden? Call us today.
---
Your Comments