Living Room Essentials
What makes a great living space? Comfort, accessibility, functionality? All of these are important, and all of them mean different things to every family. But your living room should have a few essentials. Let's take a closer look.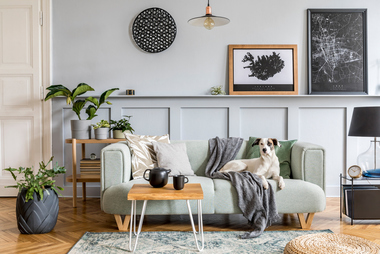 Comfortable Furniture
For a long time, the formal living room was an echo of the stuffy parlors or sitting rooms of past generations. They were intended only for guests and kept pristine, and they often were uncomfortable. But today's homeowners want comfort at all levels. Comfortable furniture will start you off in the right direction.
Accessible Entertainment
Some families like to use their living room space for entertainment. Your television and related accessories should be easily accessible. Whether you use an entertainment center or mount your TV on the wall will depend on the room's layout.
Storage
There will always be things that you don't want to sit out all the time. You can use items such as storage ottomans or decorative baskets to keep throw blankets, remote controls, magazines or toys organized.
Window Treatments
The window treatments you choose will largely depend on the placement of your living room within your home or how you use your space. Decorative drapes are still an option, but if your windows face high-traffic areas, you may also want practical blinds or shades.
Personal Touches
Of course, your living room isn't truly lived in until you add your decorative touches. These can be anything from the art on the walls to a favorite heirloom quilt. Don't be afraid to make your living room match your style.
Are you looking for a home with a great living space? Call us today.
---
Your Comments