Top Trends in Window Treatments
Like all aspects of the modern American home, window treatments have gone through various evolutions. From simple coverings to provide privacy to elaborate swoops and swags, covering windows is partly about aesthetics and partly about comfort. But what are the trends for windows in 2021? Let's take a closer look.
Roller shades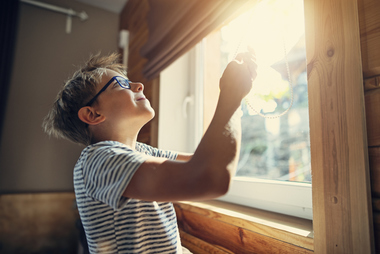 A simple method for room darkening, roller shades are still popular. They may not be the most aesthetically pleasing, but they have a job to do and know how to do it. Roller shades are available in most big-box stores and are easy to cut to fit at home. If you're looking for something prettier, roman shades provide much of the same functionality.
Shutters
Mini blinds and horizontal wood blinds seem to be a trend left in the 1990s. Many new homes are incorporating shutters. They can be closed and opened to manage the light, and most are built with movable louvers so you can adjust them as the sunlight changes throughout the day.
Decorative hardware
For those wanting to use drapes, the big-ticket aspect today is decorative hardware. Whether you're using blackout curtains or sheers, you want to accent them with a decorative curtain rod. Metals are the most popular materials today, and smaller, decorative finials are in vogue.
Smart technology
One of the most exciting innovations in window coverings today is the use of smart technology. Once only seen in science fiction, it's now available for all homeowners. These smart blinds can be controlled with an app on your phone so you can change the position of the blinds even when you're not home.
Minimalism
Another popular trend in window coverings today is minimalism. For some people, that means no window coverings at all. For others, it's about having a functional way to block light but with only minimal design. The large swags, toppers and jabots of previous decades are no longer in fashion.
What kind of window treatments do you want in your new home? Call us to see how we can help.
---
Your Comments