Using Concrete in Your Bathroom Design
You may not have thought about it, but concrete can be a perfect material to use throughout your bathroom. From the floor to the shower to sinks, concrete is great for wet environments. If you think concrete is a good match for your bathroom, consider the following options.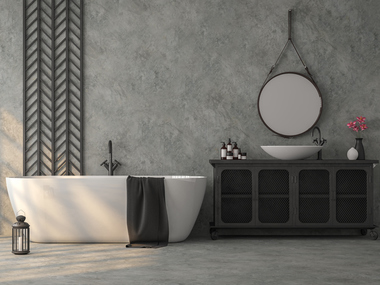 Concrete Floors
Poured and sealed concrete floors are a great solution for your bathroom. They're easy to maintain and to keep clean and dry. If you do go this route, however, you may want to add some comfortable rugs because concrete can be hard and cold on the feet.
Concrete Showers
Many shower pans are already made with concrete but then are tiled over. But the right concrete shower pan can provide a decorative touch. Consider options that include appealing colors or patterns.
Concrete Sink Basins
Similarly, you can use concrete for the basins of your sink. These sinks can be designed in any form, including vessel styles, and concrete coloring agents can add a pop of color to your bathroom design.
Concrete Tubs
Down the list of options but still a possibility is a concrete tub. Imagine a deep soaking tub like a Roman bath. The beautiful thing about concrete is that it can be formed and poured with any shape or design in mind, including bathtubs.
If you are ready to design your perfect bathroom, contact us today.
---
Your Comments