Is This Your Situation: Curious About Life in a Tiny House?
Tiny homes are all the rage right now. Many people are making the transition to save on expenses. But before you take the plunge too, ask yourself these questions:

Can you live in less than 400 square feet?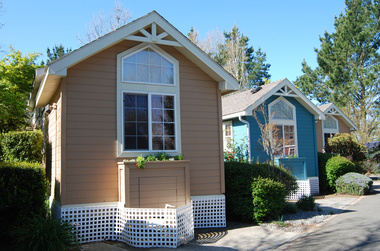 If you have a large family, a tiny home is probably not for you. It is easy for one or two people to live in a small space, but once you start adding in kids and pets, it can start to become crowded.

Do you need to have a set of full sized appliances?

Many tiny homes are too small for their owners to include a full set of appliances. If you are opposed to washing all of your dishes by hand, you might want to rethink your plan to move into a tiny house. Likewise, if weekly trips to the Laundromat does not sound like it would fit into your schedule, you might want to consider a home with a larger footprint.

Do you want to build or buy?

One of the first decisions you will have to make once you are committed to owning a tiny house is whether to build or buy. Much like a traditional home, tiny homes can be designed and built from the ground up or you can choose to purchase a preexisting tiny house that is move-in ready. However, due to the tiny homes' small size, there is a third viable option: to buy the shell of a tiny house, have it relocated to your property, and then fill in the home with custom features and design elements. There are advantages and disadvantages to all three options, so be sure to weigh the pros and cons before making a final decision.

Tiny homes come in a variety of shapes and sizes, some with more intricate detailing than others. If you are looking to save money building a tiny home, choose a design that is simple and straightforward. This will be easier and quicker to build, making it a more cost-effective option than a highly detailed tiny home.

Can I build a tiny house in my desired neighborhood?

Some tiny homes are on wheels, and as such, they are often legally categorized as an RV. This is great when you are trying to avoid the headache that goes along with navigating building codes, but less great when you are looking to live in a more traditional neighborhood. Many communities only allow homes on wheels to be parked in an RV park. This has the benefit of having ready source of water and power to your home, but that is balanced out by the possibility of having irresponsible neighbors.

Other tiny homes are permanent structures, but this means that they have to submit to a variety of building codes. Many neighborhoods have a minimum required size for a freestanding home, so you will have to make sure that your home, as well as its sources of power, water, and natural gas, follow city or county regulations.
To learn more about buying a tiny home, contact our team today.
---
Your Comments
Saved Articles
Comments and Feedback
Refer A Friend
Your Privacy

The information provided in this email newsletter is for general guidance only, and does not constitute the provision of legal advice, tax and accounting advice, real estate investment advice, or professional consulting of any kind. The information provided herein should not be used as a substitute for consultation with professional real estate, tax, accounting, legal, or other competent advisers. Before making any decision or taking any action, you should consult a professional adviser who has been provided with all pertinent facts relevant to your particular situation. Home value estimate calculators provided herein are general estimations based on publicly available data and should not be used as a substitute for a professional appraisal. The information is provided "as is," with no assurance or guarantee of completeness, accuracy, or timeliness of the information, and without warranty of any kind, express or implied, including but not limited to warranties of performance, merchantability, and fitness for a particular purpose.

Powered by

Copyright © HomeActions, LLC All rights reserved.

This email was sent to: tom@thethomaswilsergroup.com

Mailing address: , , ,