7 Reasons You Need a Shed
You may think of a shed as a place to store your lawnmower and shovels. Although that's certainly a common use, you can do many other things with a small outbuilding in your yard. If you've thought about building a shed but need a little inspiration, the following list provides 7 great reasons you should have a shed in your back yard.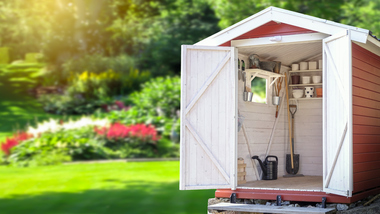 1. Garden Storage
Maintaining a garden involves some significant hardware. You need shovels and rakes of varying sizes. You also need pots, a place to store your hose or watering cans and specialty tools like stakes. If you have to store these items in your basement or garage, they can quickly take over. A shed is a perfect solution.
2. Workshop
Maybe you have a hobby that involves a little extra space. Woodworking comes to mind. A backyard shed can get you out of the house when you're doing a messy job and give you room to work.
3. Security
You need a lot of expensive items for home and yard maintenance. Lawnmowers, snowblowers, leaf blowers, pruners and trimmers all cost a lot of money to replace. A locked shed will help you keep them safe.
4. Playhouse
A shed doesn't just have to be for storage. Convert a shed into a colorful playhouse for your children to enjoy. All it takes is some paint and a little creativity to give your kids a great a fun fortress.
5. Backyard Retreat
Your shed also can be converted into a backyard retreat. Whether you want to create a quiet, meditation space or a room for entertainment, a shed can be converted into your dream man-cave or she-shed.
6. Recreation
You also can use your shed to store recreational equipment. Keep bicycles, sports balls, tennis rackets, and outdoor lawn games organized by putting a shed in your yard.
7. Home Value
A shed can increase your home's value. Sheds are desirable among homebuyers, so if you have one and are looking to sell your house, you may get a more competitive offer for your property.
Call us today to discuss whether a shed would be a valuable addition for your home.
---
Your Comments