6 Easy Tips to Improve Your Bathroom
Many people think they have to choose between form and function in the bathroom. Often, small rooms are a challenge to design and to utilize the space in a way that works for the whole family. If you're struggling with how to use your bathroom and how to keep it organized with the right amount of storage, the following 6 bathroom tips can help.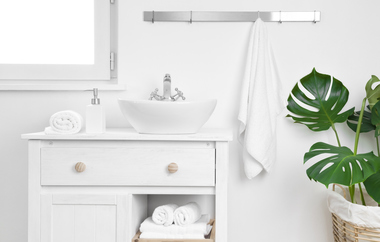 1. Store Small Items in a Spice Rack
In a small bathroom, regular-size shelving can take up too much space. But a spice rack can hold small bottles of lotion or shampoo and has a much narrower profile. Hang decorative spice racks near your vanity or the shower.
2. Hang a Magazine Holder Inside a Cabinet Door
If you've ever had to wrestle with a hairdryer, you know they can be unwieldy to store. The simplest fix is to screw a magazine holder to the inside of your cabinet door. This can serve as a holster for the blow dryer so you can easily grab and store it.
3. Install a Shelf Above the Bathroom Door
Another way to maximize a small space is to make use of the ceiling height. Installing a shelf over the bathroom door will give you a place to store things you don't need every day. Cabinet doors can hide things or you can use decorative baskets for storage.
4. Reflect Light with a Large Mirror
If your goal is to make the bathroom look bigger, install a large bathroom mirror. A mirror will reflect the room and make the entire space feel larger. Plus, having a large mirror will make it easier to get ready in the morning.
5. Use Coat Hooks Instead of Towel Bars
Towel bars take up a lot of space, especially when you have several family members using the same bathroom. One quick solution is to hang coat hooks instead of bars or racks for your towels. This allows towels to take up less than half the space but still have room to dry.
6. Organize Containers with Magnets
A lot of kitchen organizational ideas also work well in a bathroom. For example, a magnetic knife strip can be used to store bobby pins or barrettes. Or glue magnets to the back of your makeup containers and store them on a magnetic spice rack.
Call us today to discuss the kind of bathroom you are looking for in your next home.
---
Your Comments