Keep Your Fridge and Pantry Organized
You should keep your pantry and refrigerator organized for several good reasons. It will help you keep up with expiration dates, prevent overbuying and keep the leftover science experiments at bay. You can use some easy tricks to keep these spaces more organized. Let's take a closer look.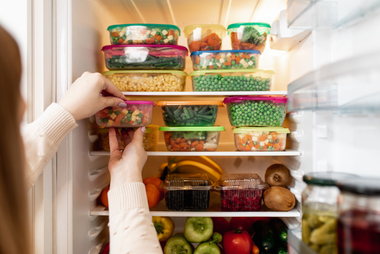 Storage Bins
The food you buy comes in colorful packaging, but these bags or boxes can add to the cluttered look of your pantry or fridge. Take things out of their package and put them in storage bins. That not only goes for things like sugar and flour but also cereal, rice, pasta and snack foods. Even individually packaged items that can be stored in a dedicated container. Clear containers can help you see what you have.
Container Labels
Don't forget to label your storage containers as well. Powdered sugar and flour can look an awful lot alike if you fail to label their containers. You can print labels at home from your computer or several organizational products offer pre-printed options for common items.
Door Hangers
The space behind your pantry door is often under-utilized, but it can provide valuable storage space. You can install a rack, such as a spice rack, to keep things organized. Or you can even repurpose something like a shoe organizer to hold produce such as onions or fruit.
Condiment Storage
Are the doors of your refrigerator overflowing with condiments? It's easy to get carried away with a lot of different salad dressings and mustard varieties. Every few months, take a couple of minutes to check expiration dates and toss what you don't need. Make it a point to avoid buying something new if you already have opened a similar item.
Lazy Susan
Both in your pantry and refrigerator, a lazy Susan can maximize your use of space. It is easy for things to get lost at the back of the shelves. You can ensure that doesn't happen by putting items on a spinning storage tool. This will make it easier to access items without having to take out everything in the front.
Frozen Foods
Have you ever opened your freezer to find a package of freezer-burned mystery meat? It happens to everyone. When you put meat in the freezer, label it with the kind and the date. That way you'll know what it is and when you should eat it.
If you want help keeping your new kitchen organized, call us today.
---
Your Comments