Build a Better Laundry Room
Is your laundry room on your main floor or in your basement? Do you often curse that you don't have enough storage space or room to work when doing laundry? Beyond getting the newest state-of-the-art washers and dryers, you can build a better laundry room following some simple tips. The room does not have to be pretty unless you want it to be, but it does have to be functional. The following ideas can help get you started.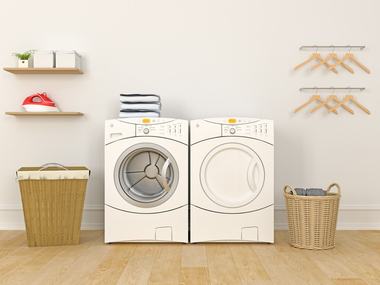 Plenty of Storage
A top complaint from homeowners is that their laundry room doesn't have adequate storage. In some cases, especially when washers and dryers are located in the basement, it may not have any storage at all. Adding cabinets or shelves can keep your laundry supplies organized and easy to find without having to stack these essentials on top of the dryer.
A Folding Table
Consider adding a folding table — and when we say "folding" we don't mean a table that folds, although it can be. If you want to make sure laundry is neat and put away after it is washed, be sure to have a place to fold clothes as you take them out of the dryer. A counter-high workspace is perfect for folding laundry and staying organized.
Hanging Space
Some clothes need to be hung right away to prevent wrinkling. Without a place to do this, this task can be frustrating. A clothesline will do in a pinch, but more modern laundry room designs will incorporate a clothes rack or even a shower rod to hang clothes up to dry. Also keep plenty of hangers on hand.
A Bin for Trash
If you want a neat and tidy laundry room, make sure you have a trash bin handy. You can throw away dryer sheets and lint after every load. This will keep your laundry room clutter-free and save you time from having to carry trash to another part of the house.
If you want a dedicated laundry room in your next home, call us today.
---
Your Comments