What to Do in a Plumbing Emergency
Plumbing emergencies can happen to anyone and at any time. But what you do in the midst of a problem can make all the difference. Having a plan in place can help you deal with any plumbing emergency quickly and easily. Following are the steps you should take when something happens to your household plumbing.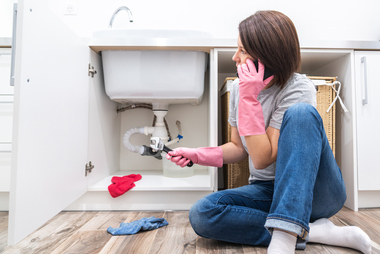 Turn off the Water
If you spring a leak in the bathroom, start by turning off the water to the house as quickly as possible to prevent any sort of damage. Know where the main water valve is located in your home. This not only will save you on your water bill but also prevent major problems while you work to fix the leak. Once the water is turned off, you can assess whether you need to contact a professional.
Identify Toilet Issues
The most important thing to determine is whether the problem involves the toilet and, potentially, raw sewage. If you're experiencing major toilet problems, you should call someone to help you identify whether you need to snake the lines or fix a leak that is contributing to major health problems in your household.
Fix Small Leaks
If you assess that the leak is small and can be fixed with thread seal tape (also called plumber's tape), you should try this step. Remember, however, that small leaks can quickly turn into big leaks, especially if they haven't been fixed properly.
Know When to Call a Plumber
The real trick is to know when to call a plumber. Plumbers can be expensive, but that doesn't mean they aren't worth the money. They are professionals for good reason. Always do your homework and try to get a good deal, but if you have an emergency, you need someone skilled in your corner.
Call us today to ensure that you're prepared for a plumbing emergency in your new home.
---
Your Comments