Add Color Without Painting Your White Walls
A lot of people aren't comfortable with color on their walls at home. White is a neutral base and can make a room look bigger, so it remains one of the most popular options. But that doesn't mean you want a house devoid of any color or personality at all. Following are ways you can add color to your home without painting your white walls.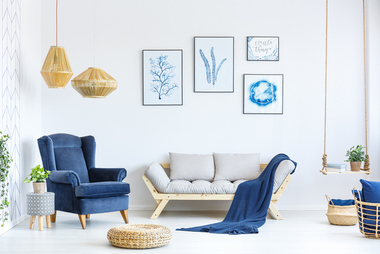 Strategically Placed Art
Nothing is more versatile than art to provide the perfect pop of color in your room. You can pick art that speaks to you and use the colors as inspiration for the rest of your design. Choose art based on your space. Large pieces make a bold statement, but smaller items can provide accents around the room.
Rethinking Furniture
Your furniture doesn't need to be neutral to match your home. Especially when your room is a blank canvas, pick some statement pieces to help tell your design story. For example, a red sofa can be just the thing you need to create a sense of excitement in your living room. Or you can select blues for a calmer, more relaxing feel.
Décor Items
There is no limit to the types of things you can use to decorate your living spaces. Décor items can be include everything from vases and figurines to the books you keep on your shelves. Rather than choosing neutral colors for these displays, pick something bolder.
A Feature Wall
You may not want to paint the white walls of your large space entirely, but consider choosing a single wall as your focus. A feature wall can be painted any color to draw the eye. Or you can even choose to use wallpaper. Plenty of removable wallpapers are available on the market today.
If you are looking forward to decorating your home, call us to learn more today.
---
Your Comments