Create That Farmhouse Feel
What do you think of when you hear the word "farmhouse"? Farmhouse design isn't specific to those who live on a farm. This concept incorporates simple and practical design elements into daily life. Natural elements, muted colors and comfort are all hallmarks of farmhouse design. The following tips will help you design a home that reflects this style.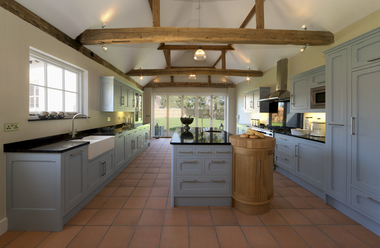 Neutral and Muted Colors
Farmhouse décor is muted, not flashy, so choose colors that match this tone. Neutral creams, whites and tans fit well with the theme. If you want to add color, consider muted and natural tones. For example, sage green and peach go well with a farmhouse look.
Dimension and Texture
This design concept incorporate texture and dimension. Use wood on walls, like shiplap, wainscoting or board and baton. Choose furnishings with rich textures, such as woven fabrics, canvas or distressed leather.
Vintage Items
Of course, you can give your home this heirloom look by including real vintage pieces. Maybe you have some family furniture passed down for generations. Or you can check your local flea market or swap meet. Vintage doesn't have to mean expensive. You can always paint or restore items for your home.
Baskets for Storage
The best way to add storage to your farmhouse look is by using baskets. Big baskets can store blankets and pillows. Small baskets can hide the modern conveniences that distract from the farmhouse look, like cords and remote controls.
Painted and Distressed Furniture
The main takeaway about the farmhouse aesthetic is that nothing should look perfect. It needs to look lived in. Painting furniture white can give it a fresh new look that will match the design. Or you can distress furniture pieces to give them a sense of age.
Natural Elements
Finish off the décor with natural elements. Sticks, leaves, sisal twine and more can add a great look to your room. Don't use traditional vases, go for vintage pots or pitchers. Set picture frames directly on the mantle or install a picture rail around the wall.
If you're dreaming of a farmhouse-style home, call us today.
---
Your Comments