Using Natural Materials in Your Bathroom Renovation
You can choose from countless materials for your bathroom renovation. Plenty of manufactured materials, like tiles and engineered floors, are great choices. But natural materials can fit the bill and be just as durable and functional as other materials. What natural materials would make a great choice for your bathroom? Let's take a closer look.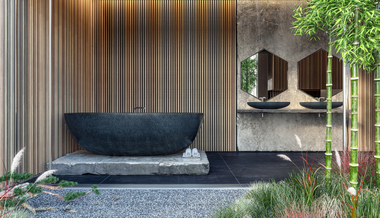 Stone
When it comes to stone, you have so many wonderful options. Some showers use pebbles on the floor. Larger polished river stones are also a great option to add a natural feel to the bathroom, whether on a shower or on an accent wall.
Slate
If you like stone but don't like the look of individual rocks, slate is a fantastic option. Slate can be found at any big box home improvement store and can be installed by the homeowner or a professional. Slate is ideal for walls or floors of the bathroom.
Bamboo
If you want wood in your bathroom, some kinds definitely should be avoided. Not every type of wood does well in a moist environment. But bamboo is a good choice and makes a great floor — or can be used for cabinet or accents.
Teak
Another perfect wood for bathrooms is teak. This commonly used material is often used on boats, so you know that it can withstand the moisture in a bathroom. Teak can be used as an accent, on the floor or even inside the shower.
Marble
If you want your bathroom to have a rich and opulent feel, you can't go wrong with marble. Marble can be used for any surface, including your bathroom vanity, floor or shower. Marble's natural pattern will look great with a variety of accent pieces.
If you're dreaming of a bathroom with natural accents, call us today.
---
Your Comments