Tasteful Seasonal Decorating
Whether you're decorating for the fall or winter holidays, consider showing some restraint in your style. This will create a more understated look. The following tasteful ideas show how you can incorporate the seasons into your yard or entryway without going overboard.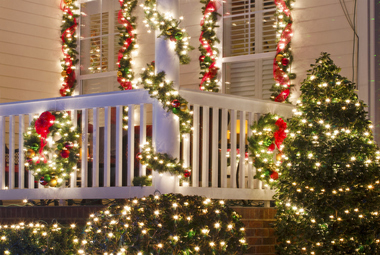 Choose a Color Scheme
One way to make your outdoor decorating stylish is to choose a cohesive color scheme. Popular choices for the winter holidays include red and green or blue and silver. You also could choose a less-common combination such as red and gold or even gold and silver. The potential color combinations are endless.
When you limit your palate to just a few colors, you curate a look that will appear cohesive. This color scheme can create an understated elegance as you celebrate the holiday.
Add Lighting
Outdoor lighting is a seasonal staple for the winter. Decorating for and celebrating the holidays may have evolved over the centuries as a way to help us deal with the short winter days. Because the sun goes down much earlier, exterior lights can brighten up your home throughout the winter months.
Colored holiday lights remain popular, but many people prefer the soft twinkle of white lights. Whatever you choose, use lights sparingly to add an accent to your home design.
Use Restraint
Once you've selected the color scheme and lighting elements you want to add, it is time to do some editing. You may not need to put up every decoration you own. In fact, most design experts will suggest that there is wisdom in restraint.
First put out everything you want to add to your outdoor decorations. Determine which items are essential and take away a few pieces so that your home doesn't appear cluttered.
Now that you are ready to decorate this holiday season, let us know what you love about the holidays. For even more elegant decorating ideas, contact us today.
---
Your Comments