Clever Nursery Storage Ideas
Whether you're welcoming your first baby or adding another child to your growing family, bringing home your baby will be wonderful and stressful. This can be true no matter how well you're prepared. But keeping things organized in the baby's room will help you maintain a sense of control and normalcy around your new schedule. Following are a few things you can do to create clever nursery storage solutions.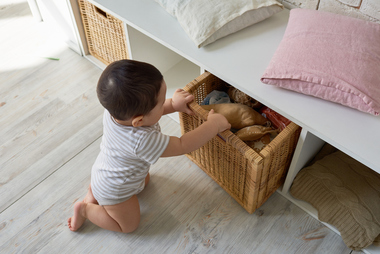 Repurposed Furniture
Maybe you have a dresser that isn't quite an heirloom but also doesn't match your home. Why not update it with a fresh coat of paint and new hardware. That can be a perfect set of drawers to store clothes, diapers and other baby supplies.
Under-Crib Storage
If you have items you don't need to use daily but want to keep in the baby's room, consider an under-the-crib storage solution. Commercially available bins are designed to fit flat under beds or cribs. If you're handy, consider building a custom storage option. You can keep these bins tucked away with the use of a crib skirt.
Baskets and Buckets
For more accessible storage, like soft toys or blankets, consider baskets or buckets that match the décor of your nursery. These storage options can be moved easily whenever necessary and are safe to have around the baby even once they start crawling.
Built-Ins
If you have unused wall space in your nursery, built-ins can be a great way to add storage where none previously existed. These built-ins can include shelves high enough to keep things out of the way of baby or cabinets to store clothes and toys.
Closet Organization Systems
If your nursery has a closet, consider installing an organizational system to make the best use of that space. You can buy do-it-yourself systems at big box home improvement stores or you can get a custom-designed solution from a closet organization expert.
Contact use for more tips about buying your next home as you get ready for your new baby.
---
Your Comments