Make Your Bathroom Design Fun
Bathrooms, by nature, are utilitarian spaces. You need to incorporate all of the necessary functions for cleanliness in one private space. But that doesn't mean you can't have fun with this space, too. You spend plenty of time in your bathroom, so you should pick a theme you love. Here are some ideas to get you started.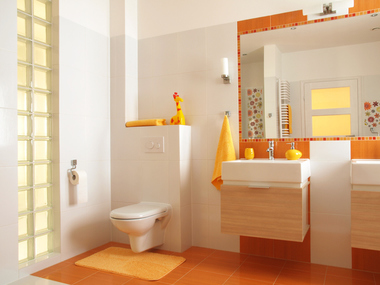 Dive Under the Sea
One of the most common bathroom themes is ocean related. Whether you've selected a beachy look with paste colors and seashells or an underwater feel with a fish shower curtain and deep blue walls, seascapes are popular.
You don't have to be so on the nose. You also can create an aquatic theme by accenting with small details. If fish are overkill, try octopus or simply decorate in shades of blue and turquoise.
Create a Spa Experience
A lot of people want their bathroom to be a sanctuary, and for this, nothing is better than creating a spa feel. The most common way to achieve this feel is by using crisp white linens and dark wood accents.
Whether you select a dark wood bench or use deep wood tones for your cabinets, the dark grains against a white bathroom creates a luxurious feel. Lush greens accent this theme nicely.
Use Bold Color
Don't be afraid to apply color in your bathroom. Bathrooms don't have to painted in shades of blue or stark white. Note that most decorators don't suggest using yellow in large quantities. Yellow can wash you out when looking in the mirror.
Why not go with bold colors like pops of red or purple? If you're not quite ready to paint a whole wall in one of these dark shades, choose accessories like shower curtains, towels or bathmats to give your room a splash of color.

Get Cheeky
One of the most popular design trends is the use of fun signs in the bathroom. You can find a variety of options that say everything from "Please seat yourself" to "Get naked."
If you're crafty, you can make these cheeky signs on your own. Or you can find a number of signs online that would work with just about any bathroom decorating scheme.
Go Green
If you want to create a serene and more serious tone for your bathroom, consider going green. And we don't just mean the color. Make your bathroom a place where you can utilize natural products for a clean environment.
Going green can extend into the design. Green is a gorgeous color in glass tiles or to use as an accent with your accessories. And don't forget to add plants that do well in high-moisture areas.
What other bathroom designs do you love? Call us today to learn how we can help you achieve the look you want.
---
Your Comments