Choosing Window Treatments
You may have just a few or a lot of windows. They may be big or small, tall or wide. Regardless of their exact form, you may want to consider the treatments you can use for them. Whether you want an aesthetic look or complete privacy will influence your choice of window treatments. Here are some popular treatment options to consider.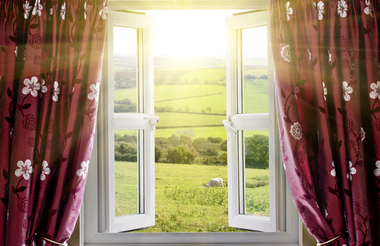 Curtains
Probably the most common window treatment is curtains. Sometimes curtains are used in conjunction with another solution to provide visual interest to something more practical. Curtains come in multiple fabrics from sheer to complete blackout. They also have the most variety in style and design.
Horizontal blinds
Horizontal blinds have been popular for decades. The most common types are vinyl and wood. Two-inch wood slats are very common and appealing in design. They are functional and easy to use as well. However, they may require more cleaning as they tend to get dusty. Some come in standard sizes, but you can also custom order them through your local home store.
Vertical blinds
Though we've seen vertical blinds fall out of favor in the last few years, they remain a viable option for large windows, such as sliding glass doors. They can be maneuvered completely out of the way for ease of use, and they provide shade from the sun in large spaces. Like horizontal blinds, some standard sizes are available, or you can have them made to your specifications.
Shades
Many people choose shades for better room-darkening effects. Pull-down roller shades are the most common, and a very affordable, solution. They can be bought in standard sizes or custom ordered. You can also get more decorative shades, such as Roman shades. Shades are great for outdoor applications as well, with outdoor materials used for areas such as porches and sunrooms.
What kind of window treatments do you want to use? Contact us today to learn more.
---
Your Comments