Improve Your Bathroom Storage
Your bathroom serves a lot of functions. It may be where you get ready in the morning or may be set up as a spa to relax in the evening. How you organize and store your things neatly and out of sight can be a big problem, especially in smaller spaces without sufficient cabinets or closets. Following are ideas to help you make the most of your bathroom storage.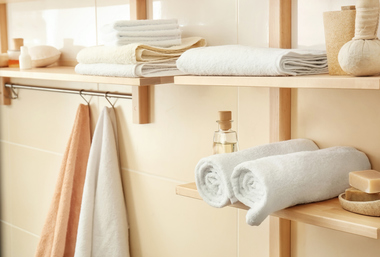 Build Between the Studs
If you have a small bathroom space, one trick can really give you additional storage. If you can, knock out the wall between the studs inside the bathroom. Then you can build cabinets into the wall, saving tons of floor space. This can be done below or next to a pedestal sink or above the chair rail to provide medicine cabinet-type storage.
Use Baskets
If you want your storage to be aesthetic as well as functional, consider baskets. Depending on your design, you can choose warm, natural baskets or wire baskets. Hang them on your walls to store towels and other bathroom necessities. They can installed on shelves or hung as baskets depending on your needs.
Make the Most of Undercabinet Storage
If you have vanities in your bathroom, don't just settle for the large, undercabinet storage you're given. Creating modular storage will give you the access you need to the plumbing under the sinks but will make your storage solutions more organized. Consider adding shelves, removable drawers or cubes.
Install Hooks and Bars
If you need to make the most of vertical spaces, hooks and bars can help. For example, if you don't want or can't have a traditional shower caddy, add a second shower curtain rod toward the back of your shower space. You can use this bar to hang storage for the things you'll need in the shower, such as shampoo, razors or soaps. Hooks on the walls can be used for towels if you don't have space for traditional towel bars.
Maximize the Inside of Doors
Don't forget the inside of doors for additional storage. The back of the bathroom door can be a great place for hooks. Inside your cabinet doors is also useful space. Hang organizers on the back of the doors to keep small items, like nail polish or toothbrushes, from taking up too much space inside the cabinets, which then can be used for larger items.
If you want to make your bathroom space work for you, call us today.
---
Your Comments