The 5 Home Improvements That Give the Best ROI
Someday, whether you're downsizing or moving to another region, you'll probably want to sell your home. Whether this is something you'll be doing in one year, five years or 20 years, spending time and money upgrading your house now will increase its market value. How well these strategic home renovations work often depends on where you live, so keep your residential area in mind when you consider the different ways to improve your home.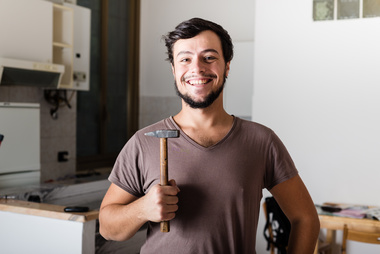 And meanwhile, of course, you'll be able to enjoy these upgrades yourself!
Here are five home improvements that in general give the best return on investment.
Upgrade your home's systems. Many homebuyers plan to renovate specific rooms after they invest in a place, so appeal to these shoppers with fully functioning home systems. Make sure your appliances are working properly, especially in extreme climates where appliances require additional maintenance, and upgrade them if needed to save your buyer from dishing out extra cash on home upkeep.
Improve your home's exterior. Most homebuyers are drawn to places based on curb appeal, so impress these shoppers before they enter with a top-notch exterior. Check your roof regularly and replace it accordingly, especially in the East, and add fresh siding, a built-in porch, a modern garage door or a trendy front door to seal the deal.
Expand your home's interior. A number of homebuyers want additional space, within their budgets, so address these shoppers with creative additional rooms. Increase square footage where you can, especially in competitive markets, by transforming your attic into a bedroom, extending your family room or adding a sunroom to increase house size and maximize your sales price.
Remodel your home's kitchen. Many homebuyers appreciate minor kitchen remodeling, so appeal to these shoppers with quality improvements in this area. Install hardwood floors in and around your kitchen, especially if you're in a place like Miami, San Diego or New Orleans, and include all-wood cabinets, trendy appliances or stone counters to bring in more than the total cost later on.
Renovate your home's bathroom. Every homebuyer spends a lot of time in his or her bathroom, so tempt shoppers with convenient bathroom additions or a completely new bathroom. Install a walk-in shower or replace the tub, especially in Baltimore, where bathroom remodels recoup over 100 percent of their final costs at resale. People want to save space in America's most populated cities, so tap into these markets to earn nearly triple-digit returns.
These five home improvements that give the best ROI enhance your home's quality and augment its resale value.
Of course, this is just general. There can be wide geographic differences; some features are almost mandatory in one state but are met with "who cares?" in others. We're the experts who know what works in your neck of the woods. When you're ready to take action and guarantee yourself a satisfactory ROI on your home, we're only a phone call away!
---
Your Comments
Saved Articles
Comments and Feedback
Refer A Friend
Your Privacy

The information provided in this email newsletter is for general guidance only, and does not constitute the provision of legal advice, tax and accounting advice, real estate investment advice, or professional consulting of any kind. The information provided herein should not be used as a substitute for consultation with professional real estate, tax, accounting, legal, or other competent advisers. Before making any decision or taking any action, you should consult a professional adviser who has been provided with all pertinent facts relevant to your particular situation. Home value estimate calculators provided herein are general estimations based on publicly available data and should not be used as a substitute for a professional appraisal. The information is provided "as is," with no assurance or guarantee of completeness, accuracy, or timeliness of the information, and without warranty of any kind, express or implied, including but not limited to warranties of performance, merchantability, and fitness for a particular purpose.

Powered by

Copyright © HomeActions, LLC All rights reserved.

This email was sent to: tom@thethomaswilsergroup.com

Mailing address: , , ,