Do You Want a Koi Pond?
Koi ponds are a long-held traditional entity that began in Japan for breeding these decoratively colored fish that don't appear in nature. The tradition spread across the globe, and many homeowners in the United States build and maintain koi ponds. But what do you need to know before putting one in your yard or before buying a home that already has one? Here are some basics.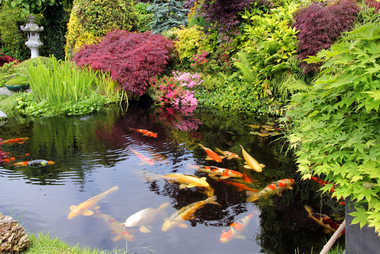 Digging and installing
If your yard doesn't already have a decorative pond, you'll need to handle the installation yourself. The process starts quite simply: dig a hole, line it and fill it with water. However, the type of liner you choose will be important, and you will also want a pump — perhaps with a fountain feature — to keep the water from becoming stagnant.
Buying fish
Getting fish is the fun part. The cost of fish will largely depend on their size and the coloring you choose. Remember, your fish will get bigger, so it may be wise to start small at the beginning. Koi come in a variety of decorative and eye-catching colors that would not be common in nature, such as orange, red, white and blue. Some particularly pretty ones are spotted.
Plants
The plants you choose for your pond are just as important as the fish. There are a variety of water plants that will help filter your pond and feed the fish. They include the following:
Water hyacinth.
Water lotus.
Water lily.
There are also reedy plants that can be planted along the edge of your pond, such as horsetail and eelgrass.
Predators
Certain plants can help protect your fish from predators, such as racoons or neighborhood cats. But there are other ways to protect your fish, including commercially available pond netting. Also, make sure your koi have hiding places such as rocks or tunnels in their pond. Your dog may even be able to help ward off predators.
Maintenance
Of course, once you have a koi pond, it is necessary to provide maintenance for it. These ponds are not self-sustaining by any means. Some activities are basic, such as feeding your fish, and others involve a little more work. For example, make sure your pond doesn't get overcrowded. Clean it regularly. And especially if you live in an area that gets cold, make sure your koi pond doesn't freeze. You can also work with a professional to help you with regular maintenance.
Do you dream of having a relaxing koi pond in your yard? Contact us to see how we can help.
---
Your Comments