Picking the Perfect Sofa
Whether you call them sofas, couches, loveseats or even davenports, this piece of furniture has become a focal point for key rooms in most American households. It needs to be comfortable, functional, durable and stylish. And what checks these boxes will be different for every buyer. So how can you determine what kind of couch to zero in on when you're buying one? Here is some insight to help you choose.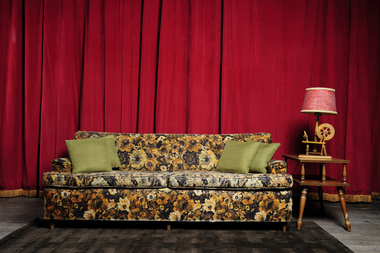 Material
The ideal material to have on your sofa will depend largely on your lifestyle. You don't want to have the plastic-covered sofas like your grandmother had that no one sits on, but if, for example, you have children, use a material that can be cleaned easily. Other materials that might work for your lifestyle include various upholstery fabrics or leather. If you have pets, get something that won't collect pet hair. Here is a fun tip: If your kitty scratches the sofa, you may actually need to blame the material. Cats like to really dig their claws into things, so go with a material that discourages that behavior, like microfiber.
Function
How is your sofa going to function in your home? Do you entertain and want to have enough seating for a large group of people? Or maybe you want a cozy space for your family to watch TV in the evenings. Whatever its function, buy a piece of furniture that works for your lifestyle. It should be pretty to look at, too, but function should be your primary concern.
Durability
How well will the construction of your furniture stand up to repeated use? Cheaply constructed sofas could break down after a while, leaving you with a lumpy mess or structural integrity issues. If you have active children, you may not be able to stop them from jumping on the sofa. And you may think your dog doesn't get on the furniture, but that's probably not the case.
Layout
You also need to consider the space where you'll be putting the sofa. Do you want a sectional with areas to lounge? Is your room large enough to accommodate that? Or would a small loveseat fit your space better? Before you shop for a new sofa, take a look at your room and take some measurements to ensure that you're not disappointed by how your purchase fits.
Price
Last, you need to consider price. Sofas come at multiple price points, ranging from just a few hundred dollars to tens of thousands. It's OK for you to buy the sofa that you want most, but make sure it doesn't rival your mortgage payment. Shop around to get the best deals; you may even be able to find what you like online.
What design ideas do you want to learn more about? Call us today to see how we can help.
---
Your Comments