Fall Brings Tiny Cool Down to the Market
The days are still warm but not as warm while the nights are brisk and cool. In fact, this is the time of year in the Northwest when you can leave home in the morning with a sweater or jacket on only to wonder what you were thinking just a few short hours later!
Fall is officially here and with it we are seeing just a tiny cool down in the local real estate market. As you will see in this issue's market report, the data is not substantially cooler, but it is cooler. Very appropriate. All the while, my team and I are blessed to be as busy as ever as we help our friends and clients who are still taking advantage of the rock bottom interest rates that we know can't last forever.
If you or someone you know is looking to make a move before the end of the year, please call or email me to set up a consultation.
Garden Photos – Bosque - The Oregon Garden – Silverton, OR
The Oregon Garden is a stunning, 80-acre botanical garden, showcasing the area's natural wonders. Less than an hour south of Portland, the Garden features 20 specialty gardens, including the Bosque, Children's Garden, Northwest Garden and Conifer Garden.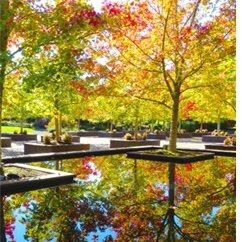 Bosque (bohs-kay') – Bosque is a Spanish word meaning grove.
The Bosque is a large central plaza featuring four brick reflecting ponds and 40 planter boxes, each planted with a single Pacific Sunset Maple. The colorful foliage of the maple trees reflects in the dark surface of the ponds.
Be sure to check out the Barn Dance in the Grand Hall at the Oregon Garden – October 19, 2019
http://www.oregongarden.org/barn-dance/
---
Your Comments