The 16 Most Beautiful Places In Portland!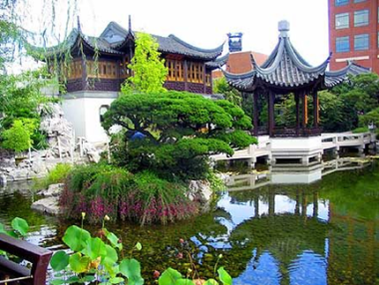 When out-of-town visitors ask where they should go in Portland, I always give them the same answer: Washington Park.
Aside from being a mega-park that encompasses attractions like the Oregon Zoo, Portland Children's Museum and the World Forestry Center, it's also hands-down the most beautiful spot in the city. But crowning Washington Park as the prettiest place in Portland just doesn't seem fair. And reminiscing about the many beautiful places within its boundaries got us thinking: What are Portland's other beautiful places?
Three from Washington Park made our final cut, along with some of its northwest Portland neighbors, and spots scattered throughout the city. Beauty is in the eye of the beholder, of course, but for this list we considered places that offer more than just a forest and a trail – places that combine natural beauty with manicured gardens and stunning architecture.
Yes, these are urban spaces, and some come with a few less-than-beautiful aspects inherent in public parks. But whether you're a tourist or a local, these are great places to spend a sunny spring or summer day, basking in the beauty our city has to offer. Click the Link Below to Experience 16 of the Most Beautiful Places in Portland . . .
https://www.oregonlive.com/entertainment/erry-2018/03/839568c159/the_16_most_beautiful_places_i.html
Authored by: Jamie Hale | The Oregonian/OregonLive
---
Your Comments