3 Creative Ways to Hide Power Outlets in Your Home
Most building codes require outlets to be spaced out along each wall of your home. While this means that you will always have a convenient place to charge your phone, it also means that you might end up with unsightly outlets located in inconvenient spots. Fortunately, there are a few creative ways to hide your home's power outlets. This way, you will not have to sacrifice functionality for aesthetic reasons.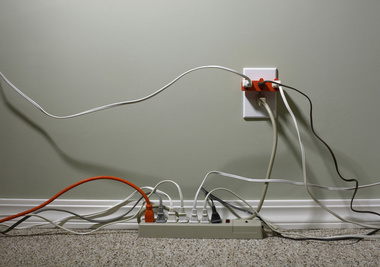 1. Underneath Your Kitchen Cabinets
At first glance, you will see a smooth, unbroken backsplash. This is undoubtedly an attractive way to design a kitchen, but you will still need a convenient place to plug in all of your kitchen appliances. This issue is solved by mounting the outlets on the underside of your upper kitchen cabinets. This keeps the outlets out of sight but still easily accessible when needed.
You can purchase cabinets with outlets built in or design your own for a fraction of the cost. Adding an electrical box to the underside of your existing cabinets can provide you with a place to tuck away all the wires and an extra-long cabinet door can make this addition appear as though it is a part of the existing cabinetry.
2. Cover It Up
This might seem obvious, but a well-placed cutting board leaning up against your kitchen wall can cover up all kinds of unsightly switches and outlets. This is an instant solution that will not cost you anything, but it is admittedly not the most elegant approach.
3. Outlet Covers That Blend Into the Wall
One of the main reasons your outlets stand out from their background is because they are usually a different color than the wall, cabinet or backsplash that they're mounted on. Choosing an outlet cover that blends in with the background can be a quick and affordable way to make your outlets less noticeable.
Many tile manufacturers sell matching outlet covers that can be included in your backsplash rather than being placed on top of it. Having the outlet lay flush with the rest of the tile can make it nearly invisible at first glance.
Another similar idea is to choose outlets that lay flush with your wall. These outlet covers can be painted over or covered with wallpaper, making the outlet cover appear to be a continuous part of your wall rather than an obtrusive eyesore.
Think about the space you are designing and choose one of these clever solutions to help camouflage your outlets and make your space appear sleek and uncluttered.
---
Your Comments