Build That Game Room!
An unfinished or partially finished basement is a blank canvas waiting for your wildest imagination. You can be as creative as you want with a space that only you, your family and your closest friends will spend time in. A basement rec room can take on a lot of roles, such as a fun bar, an entertainment room, a music room, a game room or a television room. Whatever you can imagine, you can do. But how do you get started?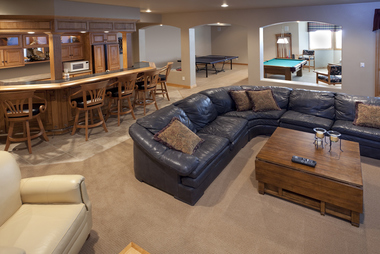 Decide on the Main Theme
What do you want to accomplish with your build-out? Do you want it to look like a traditional English pub? Or maybe the throne room of your favorite fantasy series? You could even create the perfect fan cave to celebrate your favorite sports theme.
Once you know what you want to do, you can start making plans for construction. Depending on the current state of your basement, it could be as simple as hanging some memorabilia on the walls. If you need to build out walls or install flooring, know that those processes will take longer.
Ensure You Have the Right Lighting
Unless you have a walkout or sunlit basement, you'll also need to consider lighting. Even in a walkout basement, the sunlight may not filter through the entire space, so there will be darker corners that need new lights. Lighting can be easy to do with lamps, but if you need to do more, contact an electrician.
A professional can come in and make sure the lighting is installed correctly and you have everything you need to make a warm and inviting space for friends and family to gather.
Hide Ducts, Pipes or the Furnace
The basement is usually the place where all the mechanical workings of your home reside. This means ducts for your heating and cooling system, pipes for your plumbing, your furnace and hot water heater, and maybe even your laundry.
If you're creating a space for gatherings, you will want to isolate those things so they're out of sight. There is a variety of options, from adding a hanging ceiling to partitioning off a room in your basement. You may want to consult an expert to find the best solution.
Plan the Space
Your basement's layout will dictate the best use of space. For example, if you plan on having a game table, such as a pool table, you'll need to have enough space around it to play comfortably.
For other functions, you may need space to mount a TV or to build out the pub so the basement doesn't feel too crowded when more than two people are gathered.
Are you thinking about a basement remodel to add value to your home? Contact us to learn more today.
---
Your Comments