The SCOTUS Vaccine Mandate Ruling: The Details
On January 13, 2022, the U.S. Supreme Court put a hold on the Occupational Safety and Health Administration's vaccinate-or-test Emergency Temporary Standard, which impacts private businesses that have at least 100 employees. The ETS would have required businesses of 100 or more employees to mandate that their employees get vaccinated against COVID-19 or submit to weekly COVID-19 testing as of February 9, 2022.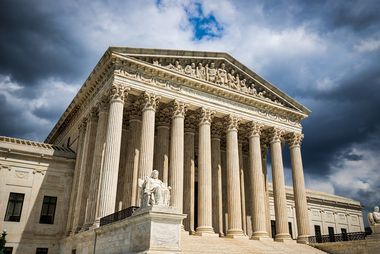 The Supreme Court and the ETS
Essentially, this means that the Supreme Court did not fully eradicate the ETS. The high court will stay the implementation and enforcement of the ETS pending further review by the Court of Appeals, with a possible revision by the Supreme Court.
In an SHRM article, law firm Fisher & Phillips says, "Technically, the court didn't kill the ETS for good, but the long-term prognosis is not looking good."
Regardless of the outlook, the rule could be returned either as is or in a revised form. The ETS lasts for only six months, and OSHA is currently considering a permanent vaccinate-or-test standard. Observers say that if the permanent rule is finalized, then lawsuits can be expected.
For now, however, the ETS is blocked.
What this means for employers
Under federal equal employment opportunity law, employers can require all employees who physically enter the workplace to get vaccinated against COVID-19 as long as the employer adheres to relevant and reasonable accommodations.
In light of the Supreme Court's ruling, some employers may opt out of imposing any vaccination or weekly testing requirements on their workforce. As one attorney states in the same SHRM article that Fisher & Phillips is quoted in, "Businesses were struggling with how to handle large numbers of exemption requests and the seemingly impossible task of administering weekly tests, especially given the test supply shortage."
Other employers may choose to retain a vaccine mandate or vaccinate-or-test policy. Employers may also need to comply with any and all COVID-19 vaccine requirements enacted by the state or local government as well.
Fisher & Phillips recommends that employers do the following:
Focus on administration-related duties during this time. For example, put together a vaccination roster that denotes which employees are vaccinated and which are not. Depending on your decision, create vaccine requirements, implement testing policies, or enact both. According to Fisher & Phillips, if the rule is implemented in the future, or if a permanent rule is finalized later on, OSHA will aggressively enforce it without fail. In order to be proactive and plan ahead, employers should be prepared for either of these scenarios.
Determine whether you want to adopt your own vaccine mandate, regardless of the Supreme Court's decision. This is allowed in most jurisdictions.
Establish safety guidelines that unvaccinated employees must adhere to. This should be completed with the guidance and advice of legal counsel in order to ensure that your regulations do not come across as coercive or disciplinary, as this may not go over well with unvaccinated employees.
Make a decision as to whether you plan to require unvaccinated employees to take regular COVID-19 tests. Weigh your decisions, and make a choice that suits your company best.
Fisher & Phillips advises employers to remember the importance of vaccine incentives. Also, it is up to employers whether they decide to implement a surcharge for unvaccinated employees in terms of their health insurance policies.
However, tread carefully when crafting these policies. It is imperative that you not cross over into discriminatory territory, which is another reason seeking guidance from lawyers who are knowledgeable in this area is very wise. Vaccine incentives make sense, but this can be a tricky step for employers, so be sure to proceed with caution.
---
Your Comments