| | |
| --- | --- |
| Here Are Your Articles for Tuesday, January 28, 2020 | |
Qualities That Make Good Leaders
How do you turn your ideas into real-world success stories? What are the qualities we associate with good leaders?
President Dwight D. Eisenhower said, "The supreme quality of leadership is unquestionably integrity. Without it, no real success is possible, no matter whether it is on a section gang, a football field, in an army, or in an office."
Honesty and integrity are two important ingredients that make a good leader. How can you expect your followers to be honest when you lack these qualities yourself? Leaders succeed when they stick to their values and core beliefs, and without ethics, this will not be possible.
What are some other qualities we associate with leadership?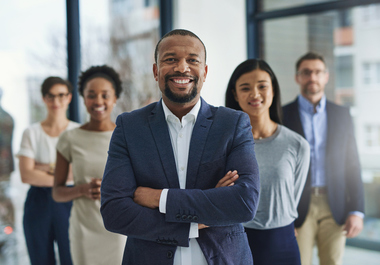 Confidence — You should be confident enough to ensure that others follow your directions. If you're unsure about your own decisions and qualities, your subordinates will never follow you. When you ooze confidence and show some swagger and assertiveness, you gain respect.
Ability to inspire others — Inspire your employees by setting a good example. They look to you to see how you react to situations. Your positive approach will be visible through your actions. Inspire others to dream more, learn more and become more — you'll easily overcome any challenge.
Commitment and passion — If you want your team to give their all, you have to be passionate. When they see you get your hands dirty, they will give their best shot. You'll gain respect and infuse them with new energy, helping them perform better. If you're not fully committed, it's an uphill task to motivate your followers to achieve. Build employee self-esteem and encourage productivity and investment in the company. Assess your staff's interests.
Good communication — You have to clearly communicate your vision to your team, telling them the strategy to achieve the goal. Otherwise, it will be very difficult to get the results you want. Words have the power to motivate people and make them do the unthinkable. Use them effectively to achieve better results. Also be an effective listener. Establish a steady flow between yourself and your staff with an open-door policy and/or regular conversations. Make yourself available to discuss issues and concerns.
Decision-making capabilities — You need to make the right decision at the right time. Decisions made by leaders have a profound effect. Think long and hard before taking a stance, but once you do, stand by it. Consult key stakeholders before making a decision — they will benefit or suffer from the decision.
Accountability — Good leaders take a little more than their share of the blame and a little less than their share of the credit. Make sure that your workers are accountable for what they're doing. If they do well, acknowledge it, but if they struggle, make them realize their mistakes and work with them so that they can improve. Accountability creates a sense of responsibility, helping your team go about the business more seriously.
Delegate for empowerment — It's important to focus on key responsibilities and leave the rest to others. Empower your employees by delegating tasks to them. But don't micromanage them — that develops a lack of trust and will keep you from focusing on what you should be focusing on. Do provide workers with all the resources and support they need to achieve the tasks and give them a chance to be responsible. Know their skill sets so you can match the task to the right employee.
Use your creativity and innovate to turn ideas and goals into reality. And how about empathy? It forms a connection with your workers. Your commitment and passion play a vital role.
Remember to listen to feedback and have the flexibility to solve problems in an ever-changing workplace.
---
Your Comments
Coulter & Justus, PC
(865) 637-4161
9717 Cogdill Rd, Suite 201
Knoxville, TN 37932
Saved Articles
Comments and Feedback
Refer A Friend
Your Privacy

Our firm provides the information in this e-newsletter for general guidance only, and does not constitute the provision of legal advice, tax advice, accounting services, investment advice, or professional consulting of any kind. The information provided herein should not be used as a substitute for consultation with professional tax, accounting, legal, or other competent advisers. Before making any decision or taking any action, you should consult a professional adviser who has been provided with all pertinent facts relevant to your particular situation. Tax articles in this e-newsletter are not intended to be used, and cannot be used by any taxpayer, for the purpose of avoiding accuracy-related penalties that may be imposed on the taxpayer. The information is provided "as is," with no assurance or guarantee of completeness, accuracy, or timeliness of the information, and without warranty of any kind, express or implied, including but not limited to warranties of performance, merchantability, and fitness for a particular purpose.

Powered by

Copyright © IndustryNewsletters All rights reserved.

This email was sent to: pbragg@cj-pc.com

Mailing address: 9717 Cogdill Rd, Suite 201, Knoxville, TN 37932