The Next Generation of Leaders Is Quiet but Impactful: Gen X
We know a lot about the different generations in the workplace:
Baby Boomers — born between 1946 and 1964 — are in the process of retiring.
Gen X — born between 1965 and 1976 — accounts for more than 30 percent of the workforce.
Gen Y (aka Millennials) — born between 1977 and 1997 — makes up the largest contingency of workers in today's workforce.
Gen Z — born after 1997 — is coming into its own and lots of speculation surrounds this generation and how it will shape the workforce.
What happened to Gen X?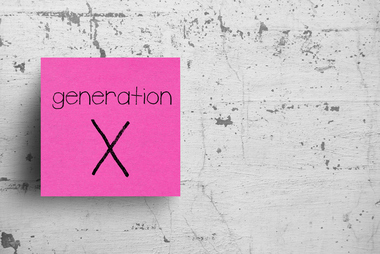 Although Gen X is poised to take over as business leaders, we don't hear as much about them as we do about the other generations. The truth is that Gen X may not make the headlines, but this generation has shaped many of the changes in today's workplace.
Members of Gen X are
the first generation to expect to balance their work life with their personal life;
the bridge between analog and digital generations (they have an innate ability to communicate with both because they've lived both); and
resilient and unafraid to meet new challenges (they've successfully come out on the other side of the dot.com bust and the Great Recession).
As businesses transition to a new generation of leaders, they should look for some of these traits in their "rising stars." We've heard about the shortage of talent across many industries. Gen Xers are equipped to meet the challenge. They can cross segment and industry lines if given the chance.
What does Gen X offer?
Gen X is adaptable to — and not afraid of — change. This is a bonus for businesses that are facing an increasingly technological work environment, dealing with the impact of social media on daily business and addressing societal changes. By recognizing their unique skill sets rather than their direct experience, businesses should look to Gen Xers to expand their pool of potential employees.
Gen Xers understand that it's okay to hire a bookkeeper, marketer or COO whose experience is in a different industry because the net effect may be better processes or procedures. They focus on transferrable skills and cultural fit rather than straight experience. This generation of workers has the ability to:
Communicate well across the company.
Maintain a 360-degree view of the business while keeping its mission and vision in mind.
Embrace difficult decisions, even when that means admitting a mistake or making a painful personnel decision.
Unite their team behind them.
This doesn't mean Gen X leaders are able to do everything well, nor are they stepping into a perfect world. Technology is expanding at a lightning pace, artificial intelligence is changing the nature of work, the push for more diversity is growing in the workplace and distinct differences are emerging among the generations in the workplace. To succeed, Gen Xers will have to balance all of these challenges while ensuring they have the same leadership skills that made their predecessors successful.
To better understand how different generations operate in the workplace and to identify the rising Gen X leaders in your organization, contact us today.
---
Your Comments