IRS Proposed Regulation for Income Tax Withholding and Revised Form W-4
By Sandra Callanan, CironeFriedberg, LLP

The IRS has proposed new regulations for withholding on individuals' wages to conform to changes brought about by the Tax Cuts and Jobs Act, including the elimination of the personal exemption. The proposed rules and the new Form W-4, Employee's Withholding Certificate, no longer use an employee's marital status and withholding allowances, which were based on the value of the personal exemption. The new income tax withholding using the redesigned Form W-4 will generally be based on the employee's expected filing status (married, single, or head of household) and the standard deduction for the year.
The proposed rules do not require existing employees to complete a new Form W-4 solely due to the changes to Form W-4. However, all new employees and any existing employee that wishes to change their withholding must use the revised form.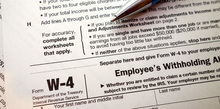 The new Form W-4 contains a section to provide for adjustment for employees who work multiple jobs and for employees with working spouses. The regulations provide detailed rules on when an employee can select "married filing jointly" on a Form W-4 and disallow that status for individuals who are legally separated from their spouse.
Starting in 2020, if an employee fails to furnish a properly completed Form W-4, employers must treat those employees as single and withhold using the standard deduction and no other adjustments.
The IRS tax tables for the new withholding requirements are included in IRS Publication 15-T, Federal Income Tax Withholding Methods, which was released December 24, 2019. The IRS also provides an Excel worksheet to assist in calculating withholding, which can be accessed using this link: https://www.irs.gov/businesses/small-businesses-self-employed/income-tax-withholding-assistant-for-employers.
If you have any questions or require assistance with the new Form W-4, please contact your CironeFriedberg professional.
---
Your Comments