IRS Publishes 2020 Inflation Adjustments
By Adam O'Feeney, CironeFriedberg, LLP
On November 6, 2019, the IRS released Rev. Proc. 2019-44, detailing a number of inflation adjustments and more than 50 other tax provisions for the 2020 tax year. The IRS makes these cost-of-living adjustments ("COLAs") each year to reflect inflation. While often times each adjustment could warrant an article by itself, below is a summary of a number of adjustments that apply to a broad range of taxpayers.
For the 2020 tax year, the 37% highest income tax bracket begins at $622,050 for married filing jointly (up from $612,350 in 2019) and $518,400 for single and head of household filers (up from $510,300 in 2019). While the personal exemptions remain eliminated for 2020 (provision of the Tax Cuts and Jobs Act), the standard deduction amounts have risen. The 2020 standard deduction amount for married filing jointly rises to $24,800 (up from $24,400 in 2019). For single filers and married individuals filing separately ("MFS"), the standard deduction rises to $12,400 (up $200 from 2019), and for heads of households ("HoH"), the standard deduction rises to $18,650 (up $300 from 2019).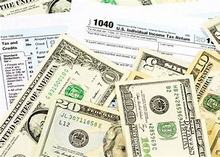 The alternative minimum tax ("AMT") exemption amount for the tax year 2020 is $72,900 and starts to phase out at $518,400 ($113,400 for married joint filers with a phase-out exemption beginning at $1,036,800). For the 2019 tax year, the exemption amount was $71,700 and began to phase out at $510,300 ($111,700 for married joint filers with a phase out beginning at $1,020,600).
Other COLAs for the 2020 tax year include the earned income credit and an increase to the qualified transportation fringe benefit. Qualifying taxpayers with three or more children are eligible for a new maximum earned income credit of $6,660 (up from $6,557 in 2019), while the monthly limitation of qualified transportation fringe benefits increase from $265 to $270.
Notice 2019-59 was also released by the IRS on November 6, 2019 providing dollar limitations on qualified retirement plans for the 2020 tax year. If you participate in a 401(k), 403(b), or most 457 plans, you are now eligible to contribute $19,500 during the 2020 year (up from $19,000 in 2019). If you are 50 or older in 2020, then the 401(k) catch-up contribution limit is $6,500 (the first increase of its kind since 2015 where it increased to $6,000 and remained there through 2019). A variety of phase-out ranges have also increased as they relate to IRAs and ROTH IRAs as well. For example, a single taxpayer covered by a workplace retirement plan has a phase-out range of $65,000 - $75,000 in 2020 (up from $64,000 - $74,000 in 2019).
As stated above, each of these COLAs could warrant their own separate article and this is merely scratching the surface when it comes to potential changes and income phase-outs. It is important to understand the types of changes the IRS can make annually as they relate to inflation, and how they can impact your individual tax situation.
Please contact us if you'd like to discuss the inflation adjustments and other tax provisions.
---
Your Comments