Connecticut Makes Changes to the Pass-Through Entity Tax
In May of 2018, then, Governor Malloy signed Connecticut's Pass-Through Entity (PET) Tax into law. This tax was a reaction to the reduction in the State and Local Tax (SALT) deduction from the 2017 federal tax changes and created an entity level tax on S Corporations, partnerships and Limited Liability Companies taxed as partnerships, that have Connecticut sourced income or Connecticut residents as shareholders, partners or members. The tax was sold as a work around to the new itemized deduction limitation with an effort to save Connecticut taxpayers or, at least, try to keep them in a similar position before the 2017 federal tax changes. Connecticut's tax was, in essence, moved from the individual to the entity when the entity was saddled with the responsibility to pay the tax and then provide a 93.01% credit to the owner who would have this income flow through their federal return and, therefore, end up as income in their Connecticut return. This structure, however, only benefited the income stream that owners of the Pass-Through Entities received. The rationale for the 93.01% credit was that the taxpayers were receiving a 6.99% state tax deduction at the federal level. The tax did not provide a work around for C corporations who were not owners in Pass-Through Entities, employees receiving wages or partners who were compensated solely through Guaranteed Payments.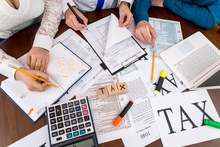 At the time this article was written, now Governor Lamont has signed a new biennial budget bill which implemented some of the following 2019 changes and received a second bill which is expected to be signed, that will provide the balance of the changes to the Pass-thru entity tax.
In an effort to close our budget gap, the 93.01% credit that the shareholders, partners or members received last year has now been reduced to 87.5% effective January 1, 2019. While the Governor touts that he has not raised tax rates, the expected reduction in the credit has the same impact. Pass-Through Entities with $250,000 of Connecticut income will provide their owners approximately $1,000 less in Connecticut personal tax credits in 2019 than 2018.
Similar, to the 2018 mid-year implementation of the Pass-Through Entity tax with an effective date at the beginning of the year, Connecticut has realized that some taxpayers could be underpaid because the current change came after their first two 2019 estimated payments were due. As a result, Connecticut will not impose a penalty or interest on underpayment of 2019 Pass-Through Entity taxes before the bill was signed.
We do need to give Connecticut credit regarding another change they have made. Partners of partnerships or their similar counterparts in Limited Liability Companies that are compensated by Guaranteed Payments will now have their compensation taxed at the entity level and receive a credit for use on their individual returns. This change now allows more individuals who are subject to Connecticut income tax to benefit from this tax structure.
One other notable change is that estimated payments for Pass-Through Entities are only due when the required annual payment is greater or equal to $1,000 which effectively removes the estimated tax payment burden for many smaller entities.
These last two changes are effective July 1, 2019 and applicable to tax years commencing on or after January 1, 2019. The above Items, as others, should be noted when you review your September and January estimated payments.
---
Your Comments