The Truth behind Fat-Free Products
Fat-Free Foods Contain Unnatural Additives and Sweeteners
Even though an item may claim to be fat free, it doesn't necessarily mean that it is healthier for you. The issue food manufacturers have with producing fat-free products is that they lack flavor. Because real, natural fats like olive oil or canola oil provide flavor, food companies use chemicals and artificial flavors to replace the flavor that fat provides. And these chemicals are harmful: they negatively affect digestion and leave you feeling gaseous. If you like buying fat-free foods, be aware that you are also consuming chemicals and artificial sweeteners.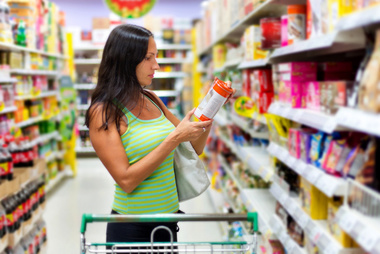 Fat-Free Food Is Less Satisfying
No matter how much artificial flavor they pack into fat-free cookies, peanut butter, and other foods, it will never taste the same as the original. Food labeled fat free, according to the U.S. Food and Drug Administration, must contain 0.5 grams or less of trans fat per serving. What happens, however, is that people overconsume these foods because they are not as satisfying, causing them to consume 8 to 10 grams of trans fat, depending on how much they eat. It's tempting to eat more than the serving size when it comes to fat-free options.
Healthy Fats Are Good for Your Body
If you constantly eat fat-free foods, your body is not getting the proper nutrients it needs from good, healthy fats. Fat gets a bad rep, but it is still a necessity to maintain good overall health. Take salad dressing, for example, instead of buying the fat-free version and pouring huge amounts of it onto your salad to increase flavor, use a tablespoon of olive oil, a tablespoon of balsamic vinegar, and some salt and pepper. You will reap the benefits of the healthy fat from the olive oil, and because a little olive oil goes a long way, you won't overconsume the dressing.
Fat-Free Foods Often Cause Weight Gain
When following a fat-free diet, many people don't realize that they are consuming the same amount of fat and calories because of all of the extra sugar contained in these products. A common chemical in fat-free foods is maltodextrin. Although it is not technically sugar, the body processes it as such when consumed in excess because of its makeup of genetically modified corn and monosodium glutamate. Although the food label indicates otherwise, those who eat primarily fat-free foods often experience weight gain.
Natural Alternatives Are Healthier Than Fat-Free Foods
Virtually every vegetable is fat free, so if you want to reduce your fat intake in a healthy manner, opt for a diet that consists mostly of fresh vegetables. Foods like spinach and kale are easy to cook and can be incorporated into lots of different recipes. Beans, especially lentils, are another low-fat option. You can incorporate them into a side dish or make them the main attraction with recipes like fire-roasted bean burritos.
It is easy to lead a low-fat lifestyle without buying into unnatural products that do you harm. For ways to follow a healthy fat-free diet, contact me today.
---
Your Comments