| | |
| --- | --- |
| Hi Shirley, Your HomeActions News for Friday, April 30, 2021 | |
Shirley Price
REALTOR®
(302) 236-7046
shirley@shirleyPricesells.com
Long & Foster Real Estate
33298 Coastal Highway
Bethany Beach , DE 19930
A Complete Kitchen Checklist
The right inventory in your kitchen will make cooking at home both easier and more enjoyable. But how do you know whether you have everything you need? Before you stock your new kitchen, read through this complete checklist so you can proceed intelligently.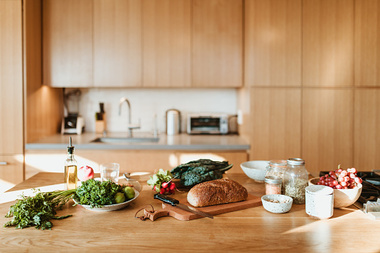 Cookware
Whatever your culinary specialty or aspirations, you can't cook without the right cookware. Essentials should include:
Two sizes of frying pans.
Three or four sizes of pots/saucepans.
Baking sheet.
Roasting pan.
Muffin tins.
Two sizes of casserole dishes.
Food prep items
Professional chefs suggest starting each meal prep with a "mise en place," which is a fancy French way of saying "setting up." Getting all your ingredients prepared ahead of cooking them can be a game-changer. For that, you'll need:
Three sizes of cutting boards.
One dedicated cutting board for meats.
Measuring cups and spoons.
Set of nesting mixing bowls.
Set of small bowls for spices or sauces.
Grater.
Vegetable peeler.
Colander.
Utensils
You will also need utensils to help with both prepping and cooking. The necessary tools include:
Knife set, including a nice chef's knife.
Wooden or silicone spoon set.
Slotted spoon.
Ladle.
Whisk.
Pizza cutter.
Potato masher.
Kitchen scissors.
Spatula.
Tongs.
Meat thermometer.
Zester.
Storage essentials
Your kitchen isn't truly complete until all your items are well organized and easy to find. This includes both food and kitchen accessories. You should think about these items:
Jars or canisters for food storage.
Spice rack and spice jars.
Fruit bowl.
Knife block or wall-mounted magnet.
Drawer organizers.
How will you stock your new kitchen? Call us today.
---
Your Comments
Saved Articles
Comments and Feedback
Refer A Friend
Your Privacy

The information provided in this email newsletter is for general guidance only, and does not constitute the provision of legal advice, tax and accounting advice, real estate investment advice, or professional consulting of any kind. The information provided herein should not be used as a substitute for consultation with professional real estate, tax, accounting, legal, or other competent advisers. Before making any decision or taking any action, you should consult a professional adviser who has been provided with all pertinent facts relevant to your particular situation. Home value estimate calculators provided herein are general estimations based on publicly available data and should not be used as a substitute for a professional appraisal. The information is provided "as is," with no assurance or guarantee of completeness, accuracy, or timeliness of the information, and without warranty of any kind, express or implied, including but not limited to warranties of performance, merchantability, and fitness for a particular purpose.

Powered by

Copyright © HomeActions, LLC All rights reserved.

This email was sent to: shirley@shirleypricesells.com

Mailing address: Long & Foster Real Estate, 33298 Coastal Highway, Bethany Beach, DE 19930