Q&A on Employee Assistance Programs
An Employee Assistance Program (EAP) is an employer-funded benefit designed to assist employees with personal problems that can impact job performance.
How does an EAP help employees?
EAPs typically assist with issues caused by workplace stress, relationship challenges, work-life imbalance, mental illness, financial instability, and alcohol or substance abuse. These issues can cause severe ramifications in the workplace.
For example, the Centers for Disease Control and Prevention says that stress and poor mental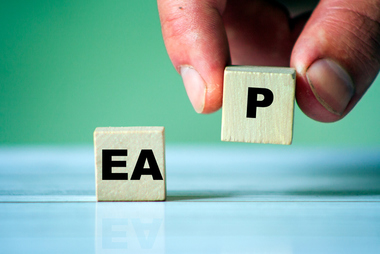 health can adversely impact the employee's:
Work performance and productivity.
Engagement with their work.
Communication with colleagues.
Physical capabilities and day-to-day functioning.
Additionally, mental health problems can lead to higher rates of absenteeism, disability and unemployment.
The goal of EAPs is to help employees (and eligible family members) cope with the above-stated issues. According to a report by the Employee Assistance Society of North America (EASNA), a comprehensive EAP provides:
Immediate and personal support to employees with mental health or workplace issues.
Consultation to leaders on workplace problems affecting employee, management and organizational performance.
Consultation to leaders on behavioral facets of the workplace.
Behavioral risk management.
Education on work-life, workplace and emotional issues.
Evaluations, support, counseling, follow-up and referrals for employees and their family members.
Preventive health and wellness resources.
Awareness training for managers and employees.
Critical incident interventions.
Online assessments and information.
Are all EAPs the same?
No. In fact, employers should exercise caution when selecting an EAP, as they vary in scope and quality. Reputable EAP vendors often offer different packages to suit employers' needs and budget.
How are EAP services delivered?
EAP services are confidential and are usually delivered in person or by phone, video, email or online chat. During pandemics, when social distancing is recommended, online, video and phone interactions are recommended. EAP services are administered by vetted, licensed professionals — such as therapists, nurses and educators.
Who can use the EAP service?
EAPs are normally available to employees, an employee's immediate family members, and people living in an employee's home.
How much do EAPs cost?
Generally speaking, EAPs cost employers anywhere from $12 to $40 per employee per year, according to the EASNA report. Usually, employees pay nothing for EAP services.
Specific costs vary by industry, employer size and the EAP model. Return on investment greatly depends on expected utilization of the EAP versus actual utilization of the program.
How popular are EAPs?
According to a 2019 report by SHRM, "EAPs have become a core benefit," with 91% of SHRM members saying they provide an EAP, an increase from 79% in 2015.
Industry experts have reported a surge in EAP utilization during the coronavirus pandemic.
As stated in an article published by the Construction Business Owner website, "Counselors are treating increased anxiety" in light of COVID-19. Further, "There are reports of increased domestic violence and alcohol abuse while people are isolated at home. Business closures and reorganizations will leave many more vulnerable to depression and suicide risk." Consequently, an uptick in EAP usage is expected.
---
Your Comments