What To Do About a Returned Form W-2
Under federal law, you must send each employee a Form W-2 — showing their wages earned and taxes withheld for the previous year — by Jan. 31. If the deadline falls on a legal holiday or a Saturday or Sunday, the form should be distributed to employees by the next business day.
You can mail Form W-2 to the respective employee's address on file. Or you can make the W-2 available electronically. If the W-2 is returned as undeliverable, what you should do depends on how you sent the form and whether the employee still works for you.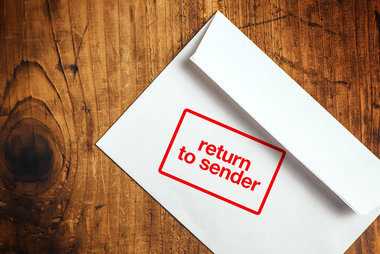 W-2 sent by mail
Do not open the envelope with the returned W-2. The sealed, postmarked envelope is evidence that you mailed the W-2 by the deadline.
Make a photocopy of the sealed, postmarked envelope; retain the copy for your records. Then, cross-check the address on the returned envelope against your records.
If there's an error on the returned envelope:
Prepare a new envelope with the right address, as shown in your system.
Put the sealed, returned W-2 into the new envelope.
Mail the new envelope to the employee.
If the address on the returned envelope mirrors your records and the employee still works for you:
Ask the employee to verify his or her address in writing.
Update the employee's address in your system.
Place the sealed, returned W-2 in a new envelope.
Mail the new envelope to the employee.
Note that you can hand deliver W-2s. In this case, consider having the employee sign to acknowledge receipt.
If the employee no longer works for you, things could get tricky. You can try to contact him or her via phone or email. If you fail to reach the employee, there's not much else you can do. Just be sure to keep the W-2 on file for at least four years, as required by the IRS. Also, document your attempts to contact the employee.
W-2 sent electronically
Employers that provide electronic access to Form W-2s must follow the guidelines in IRS Publication 1141, General Rules and Specifications for Substitute Forms W-2 and W-3. This includes obtaining the employee's consent to receive W-2s electronically.
If you do not have employees' consent, then you must inform them that they will receive a paper W-2. Further, you must tell those who have consented how to access the document electronically.
If your email notifying an employee of electronic W-2 access is returned as undeliverable, you have 30 days thereafter to provide notice by mail or in person.
As noted in an article published by the Society for Human Resource Management, the IRS does not give specific instructions for handling undeliverable W-2s. Nonetheless, you should make a reasonable effort to fulfill your W-2 responsibilities.
---
Your Comments