What Is the Fluctuating Workweek Method?
A fluctuating workweek is when an employee works different hours from week to week. Under the Fair Labor Standards Act, you can pay employees who work fluctuating workweeks a fixed salary, which applies regardless of whether they work fewer or more than 40 hours per week. For example, if they work 30 hours one week and 40 hours the following week, their salary for both weeks must be the same.
Salaried employees on a fluctuating workweek schedule are paid according to hours worked — which means they are nonexempt and must receive overtime for hours worked over 40 for the week. (Salaried employees who meet the FLSA's definition of "exempt" are not paid according to hours worked and are not eligible for overtime.)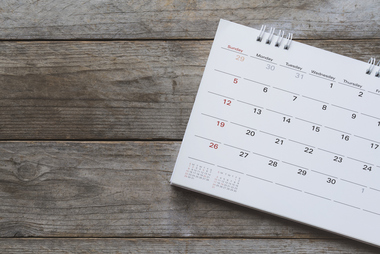 A definitive aspect of the fluctuating workweek method is that it enables employers to pay salaried nonexempt employees less than the traditional overtime rate.

Overtime Calculation for Fluctuating Workweeks
Under the FLSA, salaried nonexempt employees who work fluctuating workweeks plus overtime can be paid overtime at 0.5 times their regular hourly rate, for each work hour over 40 for the week. This is notably less than the FLSA's standard overtime requirement of 1.5 times an employee's regular hourly rate.
Example:
A salaried nonexempt employee on a fluctuating workweek schedule works 35 hours one week and 45 the next week and gets a fixed weekly salary of $650. The first step is to convert the weekly salary into hourly rates.
Hourly rate for week 1 = $18.57 ($650/35 hours).
Hourly rate for week 2 = $14.44 ($650/45 hours).
Calculation to arrive at overtime pay for the five hours:
$14.44 x 0.5 = $7.22.
$7.22 x 5 hours = $36.10 (overtime pay for week 2).
Note than you can pay more than the minimum overtime rate of 0.5 but not less.

When To Use the Fluctuating Workweek Method
Per 29 CFR § 778.114, employers can use the fluctuating workweek method if the following five conditions are met:
The employee's work hours must fluctuate from week to week.
The employee must receive a fixed salary that represents payment for all hours worked.
The fixed salary must be large enough to ensure that the regular rate of pay never falls below the federal or state minimum wage — whichever is higher.
There must be a "clear mutual understanding" that the fixed salary is for whatever number of hours the employee works, not for a set number of hours per week.
Overtime hours must be paid at no less than one-half the employee's regular rate of pay.
Not All States Are On Board
Be sure to check state law before implementing the fluctuating workweek method, as some states limit or prohibit this payment approach. Also, consider whether the fluctuating workweek method is appropriate for the position and any effects it might have on morale and retention. An employment law expert can help you with this analysis to ensure you make the best decision for your business.
---
Your Comments