Recognizing Signs of Depression in Your Employees
According to the Centers for Disease Control and Prevention, "Mental illnesses such as depression are associated with higher rates of disability and unemployment." Further, depression interrupts the individual's ability to finish physical job duties around 20% of the time and lowers cognitive performance around 35% of the time.
Yet only 57% percent of workers who report moderate depression and 40% of those who report severe depression obtain treatment to curtail depression symptoms.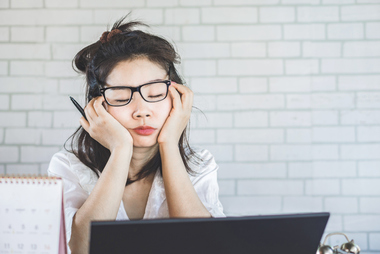 Depression should not be confused with feeling down every now and then, which is a natural part of life. As noted by the Center for Workplace Mental Health, depression occurs when negative emotions such as sadness and despair persist for more than two weeks.
If left untreated, depression can result in:
Presenteeism — although the employee is at work, he or she is disengaged.
Absenteeism — the employee does not show up for work.
Problems with work performance, including decision-making, focus, interactions with co-workers and time management.
Fortunately, many employers are paying attention to mental health in the workplace, deeming it too expensive to ignore. (Depression causes employers to lose an estimated $44 billion in productivity every year, according to the Center for Workplace Mental Health.)
However, being aware of the problem isn't enough. As the CDC says, employers must also promote awareness of the issue. One way to spread awareness is to educate your workforce — on both a manager and an employee level — about depression, including possible warning signs.
Common signs of depression in employees:
Frequently appearing sad.
Losing interest in job tasks.
Withdrawing from co-workers.
Avoiding employer-held social events.
Loss of motivation and drive for work.
Arriving to work late or leaving work early for no plausible reasons.
Behavioral changes, such as suddenly becoming aggressive or distant.
Decline in productivity and quality of work.
Problems focusing on the job.
Trouble remembering things.
Poor judgment.
Considerable weight gain or weight loss.
Expressing feelings of hopelessness or thoughts of suicide to others at work.
Seeming sluggish and fatigued.
Showing signs of drug or alcohol abuse.
Note that some of these signs may not automatically equal depression. For instance, employees may avoid socializing with their co-workers simply because they have a reserved personality and are not outgoing by nature. But if they used to enjoy socializing with their co-workers and then start dodging such activities, then you might want to find out why. Also, steer clear of establishing that employees are depressed, as only a licensed health professional can clinically diagnose depression.
Spotting signs of depression in your employees is only half the battle since the problem must also be addressed. You can help by offering programs that include mental health support and encouraging employees to use those resources as needed.
---
Your Comments