Understanding Maternity, Paternity and Parental Leave
Maternity Versus Paternity Leave
Maternity leave is the period of time that expectant or new mothers take off from work right before or after having a baby. Paternity leave is the period of time that expectant or new fathers take off from work right before or after having a baby. Both maternity and paternity leave can also be taken for the adoption of a child.
Parental Leave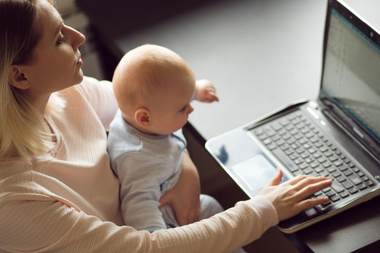 Parental leave is an umbrella phrase that generally encompasses either maternity or paternity leave, or both. For this reason, maternity and paternity leave are often individually or jointly referred to as parental, or family, leave. Although parental leave is typically applied in those contexts, it has been used to describe other types of family-related leave. In this article, we'll use the term "parental leave" to refer to both maternity and paternity leave.
Unpaid Parental Leave
Federal law does not require paid maternity or paternity leave. But per the Family Medical Leave Act, most companies must give eligible mothers and fathers up to 12 weeks of unpaid, job-protected family leave following the birth or adoption of a child.
If both the mother and father work for the same company, the 12 weeks should be divided up between them. For example, they can each take off six weeks, or one could take off seven weeks while the other takes off five weeks.
Usually, employees cannot take FMLA before giving birth. An exception may apply if the expectant mother's physician certifies that, due to a medical condition, she must stop working before delivery.
Many states have unpaid maternity and paternity leave laws that are more detailed than the FMLA.
Paid Parental Leave
As of 2018, only the following four states have adopted paid maternity and paternity leave laws:
California.

New York.

New Jersey.

Rhode Island.
These programs, which are administered through the state's disability program, are funded by payroll taxes.
Voluntary Benefits
Some employers offer voluntary short-term disability insurance to expectant and new mothers. Short-term disability pays at least a portion of the employee's salary for a specific number of weeks. Note that while maternity leave qualifies for short-term disability, paternity leave does not.
Most companies allow new mothers and fathers to use their accrued paid time off — such as vacation, sick leave and personal time — for parental leave. Depending on the company, new-parent employees may need to use all their available PTO before they can take short-term disability or unpaid family leave.
Discrimination, Reasonable Accommodation and Policy Development
When developing a parental leave policy, it's important to consider federal and state anti-discrimination and disability laws.
The Pregnancy Discrimination Act prohibits employers from discriminating against employees based on "pregnancy, childbirth and related medical conditions." Under the Americans with Disabilities Act, if a female worker experiences certain complications during her pregnancy, the illness may qualify as a disability, in which case the employer must provide a reasonable accommodation.
Many states provide even greater discrimination protection for expectant and new-parent employees, and some have their own provisions for reasonable accommodation.
---
Your Comments