How To Turn Average Performers Into Superstars
Suppose you have multiple people performing the same job. Each employee has the same knowledge and an identical skill set, yet one employee's performance far exceeds everybody else's performance.
Now imagine if you could capture exactly what's different about that employee – what makes him a star performer -- and use that knowledge to create an entire team of star performers. That's the idea behind competencies.
Competencies are behaviors, such as an intellectual curiosity to find answers, a genuine concern for customers or natural leadership talent. You can come up with a job's specific competencies by listing examples of what successful employees that average performers don't do.
After you document these behaviors, you can assess each employee's competencies against those that lead to the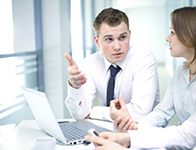 best results and perform a gap analysis to find out what's limiting overall your employee's performance.
Although there are some competencies that employees can learn, it's very difficult to teach someone how to take initiative or how to be a good team player.
If you can't train employees on those competencies, what do you do?
You select employees who already exhibit the right behaviors when you hire for the job.
Use the competencies you come up with for each job to create an interview guide for job candidates.
For example, let's say you know you need good team players who inspire other members on a team to perform at their best. You could ask job candidates to tell you about a time where his team had difficulty getting motivated and to describe how the team ultimately overcame that obstacle.
---
Your Comments