3 Easy Home Improvement Projects to Do Now
Tackling home improvement projects can make the experience of homeownership even more personal and rewarding. Many of us have grand plans for DIY projects, only to put them off for months, and even years, as we try to find the money and time. So if dollars and hours are strictly budgeted, we suggest you start with these more simple home improvement projects.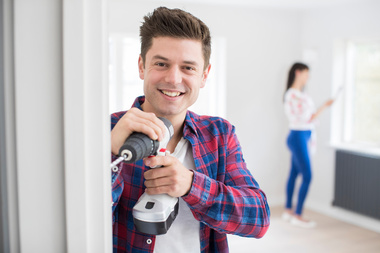 There are a number of value-adding projects you can start right now – even in the first year of homeownership – that will pay dividends in the long run. Keep these projects in mind:
Painting
It is one of the most cost-effective ways to make a dramatic change to the look and feel of your home. Whether you are painting indoors, outdoors, or both, this is a DIY project you don't have to put off because of money.
However, you don't want to skimp on the quality of the paint. You may end up spending hundreds of dollars on extra gallons of paint and primer just because the quality of the paint was lacking.
Minor Kitchen Updates
When it comes to kitchen updates, little changes go a long way. You may have planned an enormous renovation for the kitchen but after researching costs, you realized your plans exceeded your bank balance. That's fine. Take a look at these affordable DIY kitchen updates that you can start right now.
Refinish or replace cabinet doors
Upgrade using a low-cost granite countertop
Add new light fixtures
Install new shelving in empty nooks
Embellish the walls with backsplashes
Easy Landscaping
Finally, why put off improving your landscaping? It doesn't take a professional landscaper to tackle any of these easy landscaping jobs.
Lay fertilizer and grass seeds for a beautiful spring lawn.
Line your walkway with natural plants and flowers to accent your paths and driveway.
Install path lights around your garden, patio and outdoor staircases to add safety and charm to your exteriors at night.
Make your front doorway more dramatic by adding elegant edging or fancy millwork around the archway.
These are just a few of the many projects that you can tackle during your first year of homeownership that will not only be rewarding but can add value to your home. Looking for more ideas? Your real estate agent can be a great source of information and can help you determine which projects add more value in your particular area.
---
Your Comments