Virtual Is the New Reality
As businesses struggle to maintain relationships with existing clients and attract new ones, they are facing problems they may not have anticipated before the Covid-19 pandemic. From losing contacts at major clients and not knowing who to approach at a company to finding creative ways to network and connect, a new kind of reality is emerging — and it is virtual.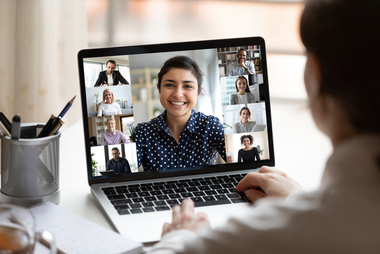 Virtual Strategies
Virtual meetings, trainings, demos and events are not the same as in-person events, but they will have to do for the foreseeable future. It is probable that some of these new programs, platforms and techniques will remain relevant even after life returns to normal.
The key to a successful virtual strategy is connecting with the company's constituents. This translates to offering engaging copy, including visual elements and providing a way for people who cannot attend "in person" to access the materials. For live events, including the audience in the presentation by encouraging questions or gamifying part of the event further engages participants.
A major issue for companies is deciding whether to offer the event for free or for a fee. Some companies believe that having a pay wall guarantees a commitment to participate in the event. That may be harder to prove in a virtual environment when participants aren't getting a free meal or the time to network as with an in-person event.
Event Goals
Note that the goal of this type of event is to reconnect with your invitees. You want them to come away with a positive impression as well as some knowledge about your company. Because people tend to leave these events before they officially end, be sure to share the information you want them to have early in the event.
Virtual networking events are working well for companies. These events, which should be kept to a relatively small number, work best if they are scheduled for between 60 and 90 minutes. People are stressed about all they have to accomplish, and you don't want your event to add to that stress. (When you think about it, most in-person events had relatively short networking time, too, albeit for somewhat different reasons.)
Including a fun activity, like a food event such as cooking or baking, can drive engagement. Companies have had highly engaged participants when they've done things like featuring a guest chef. One company invited a chef from Italy join their video event. Before the event, every participant received a bottle of Italian wine.
General Guidelines
Following are general guidelines to consider before and after the event:
Plan the event for a time that works with participants who may be in different time zones.
Send calendar invitations in advance and include a link to the app (e.g., Zoom, Team) as well as any access codes and passwords.
Send a reminder email shortly before the event.
Plan for time at the start of the event for introductions.
Include an icebreaker so that people will be able to have conversations, much as they would in person.
After the event, follow up with a brief personalized email, thanking each participant for attending.
With proper planning, these virtual events can be a such success that you'll want to continue them even after in-person meetings can resume. For help planning your virtual programs and events, contact us today.
---
Your Comments