What to Look for When Buying New Wireless Equipment
First, make sure that the router or access point supports WPS, or Wi-Fi Protected Setup. WPS was developed to make it easy to add a new Wi-Fi-enabled device, such as a printer, to a wireless network. If WPS is supported on a router or access point, there will be a small button, usually labeled WPS. Sometimes, rather than a label, there's a symbol that looks like two curved arrows making a circle. If you look up WPS on Wikipedia, there's an image of the WPS symbol.
If the device that you are setting up supports WPS, it will give you a choice of how to connect to a Wi-Fi network. One way is with a router/access point password. This is established when a router or access point is first connected on a network, and is usually pretty obscure. It's also often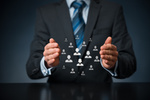 difficult to enter on a control panel of a printer.
The device will ask you to press the WPS button on the router or access point. When you do this, the button on the router/access point will start blinking, which means that it is searching for the new device you're installing. Generally it takes about a minute, and the connection is made automatically.
If you are paranoid about security, WPS isn't quite as secure as some of the other Wi-Fi protocols. It is, however, the easiest way to get a printer or other WPS-enabled device up and running on your Wi-Fi network.
The second thing to look for is support for MIMO (Multiple Input-Multiple Output). This means that the router or access point can send and receive simultaneously on several Wi-Fi frequencies. You can generally tell if a device has MIMO capability by the number of antennas it has. MIMO devices often have two or more antennas, though sometimes the antennas are internal, so this isn't an absolute method. But there will almost always be something on the packaging that states if a device has MIMO capability.
Having MIMO capability is a good thing on a Wi-Fi network that has a lot of devices on it. Think of it as the difference between a single-lane road and a four-lane highway. The four-lane highway can support more traffic than a single-lane road. MIMO gives Wi-Fi the ability to send and receive from multiple devices at the same time, which means that most times the Wi-Fi traffic won't slow down to the extent that it does using a non-MIMO router.
MIMO-enabled routers are a bit more expensive than those without the capability, but if you have multiple Wi-Fi devices, it's money well spent.
---
Your Comments